Robert 'Rob' Ernest Andrews
Robert 'Rob' Ernest Andrews
House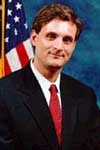 Birthdate: Aug. 4, 1957
Birth Place: Camden, NJ, United States
Residence: Haddon Heights, NJ
Religion: Episcopalian
First Elected: 1990
Gender: Male

Candidacy
Party: Democratic
State: New Jersey
Office: House
District: District 1

Education
Undergraduate: Bucknell University
Degree: BA

Graduate: Cornell University
Degree: JD

Rob Andrews, the son and grandson of shipyard workers, was born in Camden, N.J., and now resides in Haddon Heights. He earned a bachelor's degree in political science at Bucknell University and a law degree at Cornell University.
He practiced law in Camden County from 1982 to 1985, and taught as an adjunct professor at Rutgers University College of Law from 1985 to 1986.
Andrews was elected to the Camden County Board of Chosen Freeholders in 1986, and was elected freeholder director in 1988. He was re-elected in 1989 and 1990.
He was elected to the U.S. House in 1990. He's known there for commuting home to New Jersey by train each night rather than staying in Washington.
Andrews and his wife, Camille, have two children.
Profile
Rob Andrews, who easily won election to a 11th term in the U.S. House in 2010, was a prime congressional voice speaking out in favor of the 2010 health care reform bill.
Andrews represents New Jersey's 1st Congressional District. In the House, he has attracted attention for his use of campaign money. In 2011, he repaid $13,000 in campaign funds he used to take his family to Scotland to attend a donor's wedding.
The Associated Press found in 2012 that Andrews used at least $97,000 in campaign money for 18 trips to California between 2007 and 2011. Some of the trips coincided with recording sessions for his daughter Josie, a singer and actress. Andrews' spokesman says the expenditures are an appropriate use of campaign money.
In July 2012 Andrews voted to prevent an increase in interest rates on federal student loans. He said that this would lessen the burden on the working class.
"By maintaining the current interest rates on federal student loans, more students will have the means to further their education, effectively laying the cornerstone of prosperity for the next generation," he said.
He also supports reworking rather than ending the federal education law known as No Child Left Behind, which aims to raise the standards of schools.
In 2008, he ran unsuccessfully in a U.S. Senate primary race against incumbent Democrat Frank Lautenberg, infuriating some of the Democratic Party faithful.
Andrews' wife, Camille, replaced Andrews in the 1st District primary that year and won. When Andrews lost the Senate primary challenge to Lautenberg, he reclaimed his House seat and ran in the general election as an incumbent.
Back in Washington, he championed finding solutions to chronic delays at Philadelphia International Airport, offering a proposal to move some of the flights from there to Atlantic City International Airport.
In one long-running political and legal battle, Andrews made a pitch to stop a plan to deepen the Delaware River, a project that has been a point of contention between New Jersey and Pennsylvania officials for more than a decade. Proponents say that deepening the channel by five feet would enable Philadelphia ports to bring in more cargo. Opponents say the dredge spoils will hurt the environment in New Jersey.
Andrews has long been known as one of the most independent-minded New Jersey Democrats. He broke with his party on support for the war in Iraq, even working with the George W. Bush White House on the wording of the resolution authorizing military action.
Andrews advocated in 2010 for funding for water improvements to national parks. And he was appointed in March 2009 to chair a special panel to address the ongoing challenge of defense acquisition reform.
Andrews has wanted to tighten Superfund cleanup standards to ensure polluters rather than taxpayers pay costs, and he has promised to work for more specific and stringent Clean Air regulations.
He supports abortion rights.
Source: Associated Press