Robert 'Rob' William Bishop
Robert 'Rob' William Bishop
House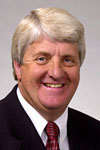 Birthdate: July 13, 1951
Birth Place: Kaysville, UT, United States
Residence: Brigham City, UT
Religion: Mormon
First Elected: 2002
Gender: Male

Candidacy
Party: Republican
State: Utah
Office: House
District: District 1

Education
Undergraduate: University of Utah
Degree: BA

Rob Bishop was born and raised in Kaysville, Utah, and now lives in Brigham City. He earned a bachelor's degree in political science from the University of Utah.
Bishop is a retired high school government and U.S. history teacher. He also taught German, having served in Germany as a Mormon missionary.
Bishop was elected to the Utah House in 1978. He served for 16 years, the last two as speaker of the House.
He was chairman of the Utah Republican Party from 1997 to 2001.
He was a state lobbyist for clients including the National Rifle Association and Envirocare of Utah, a depository for low-level nuclear waste now known as EnergySolutions Inc. He retired in 2002, when he won election to the U.S. House.
Bishop and his wife, Jeralynn, have five children.
Profile
Rob Bishop has become a vocal critic of President Barack Obama's policies on immigration and public access to federal lands.
Bishop has easily defeated Democratic challengers in Utah's 1st Congressional District since he was elected to the House in 2002. In 2012, he will face political newcomer Donna McAleer, a West Point graduate and former Army platoon leader who has worked as a consultant and university marketing director.
Bishop has used his position as chairman of the Congressional Western Caucus to advocate for less government control of interior land. He believes federal policies that prevent drilling in parts of western states such as Utah are hurting the economy and leading to high unemployment.
He also has criticized federal policies that prevent U.S. Border Patrol agents from using automobiles in some areas along the border with Mexico. As a result, he contends, drug cartels are taking over those areas.
Bishop was the chief sponsor of a bill approved by the House in June 2012 that would allow the Border Patrol to circumvent more than a dozen environmental laws on all federally managed lands within 100 miles of the borders with Mexico and Canada. Supporters said the measure is needed to give border agents unfettered access to rugged lands now controlled by the Interior Department and Forest Service. Laws such as the Wilderness Act and Endangered Species Act often prevent agents from driving vehicles on huge swaths of land.
Bishop said restrictions on federal lands have turned wilderness areas into highways for criminals, who not only bring in drugs but also abuse and rape women and leave behind thousands of tons of trash. "Drug traffickers couldn't care less about environmental sensitivities," Bishop said. "The removal of these criminals from our public lands is a value to the environment as well as the mission of the land managers."
Bishop is wary about the possibility of more lands in Utah being protected from development. When more than 80 House members wrote Interior Secretary Ken Salazar seeking protection for 9.4 million acres of red-rocks lands in Utah, Bishop responded, "Since they can't achieve their goal of locking up millions of acres of western land through an open and transparent democratic process, they're now trying to use back door, undemocratic rules and regulations to lock up public lands."
Bishop fought unsuccessfully to save the Ares 1 rocket program because the rocket's motor is built by Alliant Techsystems, which is located in his district. The program was canceled in 2010.
Hill Air Force Base is located in his district, and Bishop has long been a staunch supporter of its F-15 fighter wing.
Bishop has called for speeding up the construction of nuclear power plants even if there is no permanent dump to dispose of the plants' radioactive waste. President Barack Obama has said he opposes a permanent disposal site at Yucca Mountain in Nevada.
Bishop is a strong advocate for states' rights and says that is why he opposes a plan to ban imports into Utah of foreign radioactive waste for disposal. He says Washington shouldn't decide what kind of waste is allowed in the country, state governments should.
Bishop is an advocate of gun-ownership rights.
Source: Associated Press