Rochelle 'Shelley' Berkley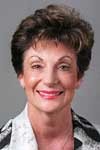 Birthdate: Jan. 20, 1951
Birth Place: New York, NY, United States
Residence: Las Vegas, NV
Religion: Judaism
Gender: Female

Candidacy
Education
Shelley Berkley was born in New York City. While in high school she moved with her family to Las Vegas, where she now resides. She earned a bachelor's degree in political science from the University of Nevada-Las Vegas and a law degree from the University of San Diego.
She worked as a cocktail waitress and keno runner while attending school in Las Vegas.
Berkley was elected to the state assembly in 1982, serving one term before losing a 1984 bid for the state Senate. She was appointed and twice elected to the Nevada University Board of Regents, serving from 1990 to 1998.
She was elected to the U.S. House in 1998. In 2012, she decided not to seek a eighth term in the House in order to challenge Republican Dean Heller for Nevada's second U.S. Senate seat.
Berkley is married to Dr. Larry Lehrner. She has two sons and two stepchildren.
Profile
Shelley Berkley gave up the security of incumbency in 2012 to seek a seat in the U.S. Senate.
After representing southern Nevada's overwhelmingly Democratic 1st Congressional District for seven terms, she threw her hat in the ring to challenge Republican Dean Heller for his Senate seat in a rough and tumble contest that could play a major factor in which party controls the upper chamber and whether Sen. Harry Reid retains his position as Democratic majority leader. Reid loaned his former campaign staff to assist Berkley.
Heller, former congressman representing Nevada's largely rural 2nd Congressional District, was elevated to the Senate in 2011 by Gov. Brian Sandoval to replace John Ensign, who resigned in disgrace amid an ethics investigation involving an affair with a former staffer.
As of July 2012, Berkley and Heller were evenly matched in campaign dollars with each reporting more than $4 million in cash on hand.
The 2012 election will be the first competitive race Berkley has faced in more than a decade. At the same time, she is fighting off ethics allegations that she used her office to influence federal reimbursement rates for dialysis providers and lobbied to save a kidney transplant program in Las Vegas administrated by her husband, Dr. Larry Lehrner. Heller also had backed the program. Berkley said the kidney transplant center was critical to Nevada patients who would have to travel out of state if it closed.
In 2012 Berkley supported the DREAM Act, which would provide a pathway to citizenship for some young immigrants who came to the United States illegally as children. In response to the Supreme Court's June 2012 decision on the Arizona immigration law, Berkley criticized the Court's upholding a key portion of the law saying that it will "force even more people into the shadows."
She supported the 2010 health care reform bill. She said the law "wasn't perfect" but would end abuses by the insurance industry and benefit consumers.
Berkley has also made a career as a guardian of gambling, tourism and the downtrodden in a state shattered by record unemployment.
Shelley chided Republican opponents in June 2010 after the Senate blocked an extension of unemployment benefits, calling the move a "slap in the face" to out of work Nevadans. She's also been a strong advocate for veterans, and successfully pushed for more clinics in Nevada and a new Veterans Administration hospital in Las Vegas.
Berkley is well versed in Middle Eastern affairs and in May 2010 helped orchestrate a meeting between Jewish members of Congress and President Barack Obama to discuss the administration's positions on Israel.
She came to her district's defense in January 2009 after Obama said companies that benefited from the federal financial industry bailout shouldn't be taking junkets to Las Vegas. Berkley called for a "ceasefire," saying the "true cost of these words in real dollars" is lost jobs in the tourism industry.
She voted to ban Internet gambling in 2000, but joined in 2003 a bipartisan congressional effort to consider letting states regulate and tax it. She said in 2010 she supports efforts to legalize Internet gambling, which would allow Nevada's casinos to participate in the online market.
Source: Associated Press