Rodney P. Frelinghuysen
House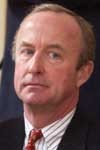 Birthdate: April 29, 1946
Birth Place: New York, NY, United States
Residence: Harding, NJ
Religion: Episcopalian
First Elected: 1994
Gender: Male

Candidacy
Party: Republican
State: New Jersey
Office: House
District: District 11

Education
Undergraduate: Hobart College
Degree: BA

Rodney Frelinghuysen was born in New York City, and resides in Harding, N.J. He earned a bachelor's degree from Hobart College.
He served in the 93rd Engineer Battalion in the Vietnam War from 1970 to 1971. In 1972 he became Morris County's state and federal aid coordinator. Frelinghuysen also served as a Morris County freeholder.
He served in the New Jersey Assembly until he won election to the U.S. House in 1994.
Frelinghuysen is a member of one of New Jersey's longtime political families. Four Frelinghuysens since 1793 have served as U.S. senators from New Jersey. His father, Peter Frelinghuysen, served in the U.S. House from 1952 to 1974.
Frelinghuysen and his wife, Virginia, have two daughters.
Profile
Rodney Frelinghuysen is a member of one of New Jersey's longtime political families and has had little trouble winning re-election in the state's 11th Congressional District.
Frelinghuysen underwent hip surgery at Morristown Memorial Hospital in March 2011.
Frelinghuysen chairs the Appropriations Committee's Energy and Water Development Subcommittee. In 2011, he attacked President Barack Obama's administration for working to kill a project to store nuclear waste at Yucca Mountain in Nevada.
Frelinghuysen opposed the 2010 health care reform bill. He expressed disappointment with the Supreme Court's June 2012 decision upholding the bill.
"Our primary focus should be on jobs and the economy and this decision appears to affirm a whole host of new taxes, mandates and regulations on small business owners, raising health care costs and continuing uncertainty for employers," he said.
His legislative focus is on financial matters and his knowledge of the budget process, stemming from his time in the state Assembly, helped land him a coveted spot on the House Appropriations Committee. From that post, he has procured federal funding for several New Jersey initiatives, including additional mass transit lines.
Frelinghuysen initially opposed in the fall of 2008 President George W. Bush's $700 billion bailout package for the financial industry. He voted for the approximately $800 billion economic stimulus package in 2009, saying he supported provisions in the bill such as tax breaks.
Frelinghuysen was among several Republicans in New Jersey's congressional delegation in 2008 who helped kill a Democratic plan designed to spur drilling on already available federal lands in Alaska, the West and the western Gulf of Mexico.
Democrats were critical of Frelinghuysen when he opposed a bill that renewed the State Children's Health Insurance Program, which extended government-sponsored coverage to about 4 million uninsured children, but the rebukes did not cause him to change his mind.
Opponents said the bill was too costly, took the program beyond its original intent of helping the poor and would entice people to switch to government coverage.
Frelinghuysen gained attention in May 2007 when he helped police nab a man who tried to run off with his wallet. The incident occurred as Frelinghuysen was walking in the Georgetown section of Washington, D.C.
Source: Associated Press