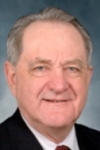 Birthdate: June 9, 1945
Birth Place: Joplin, MO, United States
Residence: Portland, OR
Religion: Catholic
Gender: Male

Education
Ronald Green was born in Joplin, Mo., and now resides in Portland, Ore. He earned an associate degree from San Jose City College and also studied at Portland Community College, Portland State University and Santa Monica College.
Green is a TriMet bus driver and the former host of a local access cable show called "It's about Freedom" and a talk-radio show called "Love and Duty" that aired on a New Orleans radio station.
He has bounced between a variety of jobs, including work in hotels and warehouses. He has also worked in accounting and driven forklifts and delivery trucks.
Profile
Republican Ronald Green has taken on the enormous task of challenging incumbent Democratic Rep. Earl Blumenauer in Oregon's most liberal district.
Green's platform is a mixture of liberal and conservative ideas to create jobs. He wants to erect tough trade barriers and promote policies that encourage employers to hire American workers instead of outsourcing their labor overseas. Such a move would boost employment and force employers to compete for workers, driving up wages and benefits, he said.
Green believes politicians don't focus enough on achieving full employment and that corporations benefit from a large pool of unemployed workers. He wants to crack down on illegal immigration.
Beating Blumenauer would send a clear message that voters are opposed to free-trade policies, Green said.
Despite running in a heavily Democratic district, Green insists he can win. The TriMet bus driver said his route keeps him "close to the street" so that he's in touch with the mood of the electorate.
He opposes abortion and describes himself as "pro-Bill of Rights." He says he supports in particular the First Amendment, which guarantees free speech and religious exercise, the Second Amendment, which establishes gun rights, and the Tenth Amendment, which delegates governing authority to the states.
Concerned about what he sees as violations of civil liberties, Green wants to stop funding for the Transportation Security Administration and the Department of Homeland Security. Lifetime appointments of Supreme Court justices should be ended and judges should be elected for not more than two four-year terms, he said.