Ronald 'Ron' Sylvester Barber
Ronald 'Ron' Sylvester Barber
House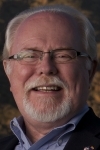 Birthdate: Aug. 25, 1945
Birth Place: Yorkshire, , United Kingdom
Residence: Tucson, AZ
Religion: Catholic
First Elected: 2012
Gender: Male

Candidacy
Party: Democratic
State: Arizona
Office: House
District: District 2

Education
Undergraduate: University of Arizona
Degree: BA

Ron Barber was born in Yorkshire, England, to an American serviceman father and an English mother. He grew up watching American Westerns, and said it was like a dream come true when in 1959 his parents moved the family to Tucson, Ariz., where he still resides.
Barber earned a bachelor's degree in political science from the University of Arizona. He worked for the state for 32 years as an administrator in the Arizona Department of Economic Security's division of developmental disabilities.
Barber then worked as a district director for Rep. Gabrielle Giffords. He was at her side at a constituent meet-and-greet in Tucson in January 2011, when a gunman opened fire. Six people were killed and 13 were wounded, including Giffords, who was shot in the head. Barber was shot in the thigh and face.
Afterward, Barber founded the Fund for Civility, Respect and Understanding to promote civility and mental-health awareness in the Tucson community. He is mostly recovered from the shooting but has experienced post-traumatic stress and problems with his left leg.
When Giffords announced her retirement, she urged Barber to run in the election to replace her.
In June 2012 Barber won a special election to fill out the remainder of Giffords' term, defeating Republican Jesse Kelly by 6 percentage points.
Barber and his wife, Nancy, have two grown daughters.
Profile
Ron Barber has embraced many of outgoing Rep. Gabrielle Giffords' top priorities, including veteran services, border security and the two military bases in the district. He also has vowed to work to stop foreclosures and balance the budget without harming Social Security or Medicare.
Though Barber will serve out the remainder of Giffords' term in the state's 8th District, state redistricting means he is running for a full term in the newly redrawn 2nd District _ which includes much of the 8th _ in the November 2012 general election.
Stepping out on his own, Barber opposed in 2012 the Republican congressional budget plan that would make major changes to Medicare. He also called for the reauthorization of the Violence Against Women Act and put forth a proposal to change the 2010 federal health care reform law.
Those changes included measures aimed at keeping insurance rates down, promoting programs that pay providers based on outcomes, allowing the government to negotiate for prescription drugs and eliminating proposed cuts to Medicare Advantage plans.
Barber also has made specific promises to Medicare beneficiaries, saying he will oppose large benefit cuts, efforts to make it a voluntary program and plans requiring seniors to buy private insurance. He has said he will not force seniors to bear the burden of fixing the deficit.
Barber has vowed not to raise energy taxes and to expand American energy production, including oil and gas and renewable energy sources like solar, wind and geothermal.
Running in the new 2nd District, which favors Democrats but is still moderate, Barber has touted his support from Republicans, placing several on his campaign committee and holding press events for endorsements from prominent southern Arizona Republicans.
Source: Associated Press