Roscoe Gardner Bartlett, Jr.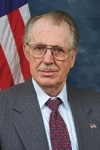 Birthdate: June 3, 1926
Birth Place: Moreland, KY, United States
Residence: Frederick, MD
Religion: Adventist
First Elected: 1992
Gender: Male

Candidacy
Education
Roscoe Bartlett was born in Moreland, Ky., and now resides in Frederick, Md. He earned a bachelor's in biology and theology from Columbia Union College, and master's and doctoral degrees from the University of Maryland in 1948 and 1952, respectively.
Bartlett has taught and researched, primarily in the area of respiratory physiology. He is an inventor and holds 20 patents, most of them dealing with breathing support devices used by firefighters. He worked eight years with IBM in their medical instrument division.
Bartlett set up his own research and development company, which he later transformed into a real estate development firm.
He was elected to the U.S. House in 1992.
Bartlett and his wife, Ellen, have 10 children.
Profile
Roscoe Bartlett, who was elected to Congress in 1992, has been targeted by Democrats in 2012 amid congressional redistricting.
But if he's feeling threatened, he's not showing it.
The 85-year-old conservative from Frederick County still carries the message he's been espousing throughout his tenure: lower taxes, less regulation and smaller government.
Bartlett faced a primary challenge from seven Republicans, and he won with 44 percent of the vote.
The millionaire physicist-turned-farmer outstripped his nearest Republican opponent, state Sen. David Brinkley, more than tenfold in first-quarter campaign fundraising.
Bartlett got into a hairy situation in early 2012 over a proposal to give tax breaks to Americans with mustaches.
The American Mustache Institute claimed that Rep. Roscoe Bartlett had lent his support to the so-called Stache Act, which calls for a tax deduction of up to $250 a year for facial hair grooming.
But Bartlett's office said he never supported the measure. Staffers said in February 2012 that they only forwarded a copy of the proposal to the House Ways and Means Committee, without the congressman's knowledge, after receiving a media inquiry about it. That led the institute to believe Bartlett, who has long had a mustache, supported the measure.
Bartlett, whose district is in the western part of the state and was redrawn to include part of Montgomery County, advocates for energy conservation and a strong military. The largely rural 6th District hugs the Pennsylvania border and includes the Camp David presidential retreat and the Fort Detrick Army post.
Bartlett joined the congressional Tea Party Caucus in July 2010, emphasizing that he has "voted against every bailout bill."
"The Tea Party Caucus is one of the new tools, such as America Speaking Out and YouCut, that House Republicans have introduced to help Americans regain the control over their lives and their pocketbooks that's been taken away from them by the jobs-killing, out of control regulation and spending agenda of President Obama and Congressional Democrats," Bartlett said.
In June 2010, Bartlett urged the public to take part in the YouCut program, which enables citizens to vote online on proposals they would like to see Congress cut to save money.
"With your help, I am more confident that we can cut wasteful Washington spending, make regulations effective, and reduce the burden of taxes on workers and businesses and the debt burden on younger generations," Bartlett said.
Bartlett was one of two Maryland members of Congress to vote against the 2010 health care reform bill. He also opposed the 2009 $814 billion economic stimulus package.
Source: Associated Press