Samuel 'Sam' B. Graves, Jr.
Samuel 'Sam' B. Graves, Jr.
House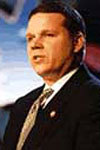 Birthdate: Nov. 7, 1963
Birth Place: Tarkio, MO, United States
Residence: Tarkio, MO
Religion: Baptist
First Elected: 2000
Gender: Male

Candidacy
Party: Republican
State: Missouri
Office: House
District: District 6

Education
Undergraduate: University of Missouri
Degree: BS

Sam Graves was born and currently resides in Tarkio, Mo. He received his bachelor's degree from the University of Missouri-Columbia.
The Farm Bureau in 1991 named him the Outstanding Young Farmer in the United States and he received a similar honor in 1996 from the Missouri Junior Chamber of Commerce.
Graves served in the Missouri House, from 1993 to 1995, and the state Senate, from 1995 to 2000.
He was elected to the U.S. House in 2000.
Graves and his wife, Lesley, filed for divorce in 2012. They have three children.
Profile
Sam Graves became the chairman of the Small Business Committee after Republicans took control of the U.S. House in 2010. He made contracting a priority for the committee, which approved eight bills in 2012 designed to make it easier for small businesses to win federal contracts.
In addition, Graves says uncertainty about environmental and other federal regulations have led small businesses to hold off on expansion plans.
After two employees of the U.S. Army Corps of Engineers and two others were arrested in 2011 in connection with a bribery and kickback case, Graves said bribery and kickbacks in government contracts cannot be tolerated and that his committee had already been working on contracting fraud issues. "The integrity of the federal procurement system needs to be protected, so that the public has confidence in government contracts and small businesses have every opportunity to compete," he said in a written statement.
In 2012, he is running for re-election representing Missouri's 6th Congressional District.
Graves voted against the 2009 economic stimulus and the 2010 health care reform bill.
He has worked on farm issues in Congress and has been a supporter of alternative fuels such as ethanol. Graves has worked to weaken the Endangered Species Act and to place a moratorium on government land purchases. He also opposed a plan to periodically alter the depth of the Missouri River to restore the population of the endangered pallid sturgeon.
When the House passed legislation in March 2009, setting aside more than two million acres in nine states (although none in Missouri) as protected wildernesses, Graves denounced it as a land grab that could increase the nation's dependence on foreign countries for energy needs.
Graves was among a group of Republicans caught up in a controversy over Kansas-based Westar Energy, which sought an exemption that would limit federal oversight. Graves used his connections to help the company get the exemption in an energy bill. After Westar executives disclosed their company was under federal investigation, Graves in 2002 dropped his support for the legislative provision. Graves in October 2005 gave a Westar contribution he had received during the 2002 campaign to charity.
Graves is a farmer who has proven adept at harvesting the vote of his sprawling northwest Missouri House district. He was first elected in 2000 and was expected to face his most serious challenge in 2008, but the Republican incumbent easily turned back former Kansas City Mayor Kay Barnes, a Democrat.
The conservative lawmaker was once the youngest member of the Missouri Senate chamber.
Source: Associated Press