Sam Johnson
House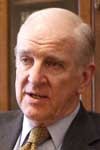 Birthdate: Oct. 11, 1930
Birth Place: San Antonio, TX, United States
Residence: Plano, TX
Religion: Methodist
First Elected: 1991
Gender: Male

Candidacy
Party: Republican
State: Texas
Office: House
District: District 3

Education
Undergraduate: Southern Methodist University
Degree: BA

Graduate: The George Washington University
Degree: MA

Sam Johnson was born in San Antonio and now lives in Plano. He earned a bachelor's in business from Southern Methodist University and a master's in international affairs from George Washington University.
Johnson served as a fighter pilot in Korea and Vietnam. He was shot down over North Vietnam in 1966 and was a prisoner of war for seven years.
During Johnson's 29 years in the U.S. Air Force he served as director of the Air Force Fighter Weapons School. He has been awarded two Silver Stars, two Legions of Merit, the Distinguished Flying Cross, four Air Medals, two Purple Hearts and three Outstanding Unit Awards.
After retiring from the Air Force in 1979, Johnson started a home building company. He served in the Texas House of Representatives from 1985 to 1991.
He was elected to the U.S. House in 1991.
Johnson and his wife, Shirley, have three children.
Profile
Sam Johnson, a former fighter pilot and prisoner of war, has spent much of his congressional career focused on military and national security issues.
He is fiercely conservative and one of four founders of the Republican Study Committee, a group of 70 of the most conservative Republicans in the House. On his campaign website, he proudly touts a National Journal poll of political and congressional insiders that names him the GOP's most admired House member.
Johnson's committee created in 2010 a Tenth Amendment Task Force that Johnson said was designed to counteract the "unbridled, unchecked, unaccountable, and out of control government championed by the Democrats."
In 2012, he was appointed chairman of the Social Security Subcommittee and sits on the Health Subcommittee of the House Ways and Means Committee.
Johnson commended the Internal Revenue Service in June 2011 when the agency increased the tax deduction motorists can take for using private vehicles for business. Johnson had been lobbying the IRS to increase the deduction since that March.
"This is a great victory for small-business owners," said Johnson, who is a senior member of the tax-writing House Ways and Means Committee. "The mid-year correction has been a long time coming."
He was an opponent of Democratic-led health care reform efforts, and said the passage of the 2010 health care reform bill was a war against "our precious freedoms and personal liberties."
Johnson worked in 2005 to repeal the Wright Amendment, which placed restrictions on flights out of Love Field in downtown Dallas. A bill he worked on to modernize portions of the tax code that deal with cell phone usage passed in 2010.
Johnson is also vocal on foreign affairs. He was a prominent critic of President Bill Clinton's Department of Defense. In 1993, after 18 U.S. soldiers were killed in Somalia, Johnson and fellow GOP Rep. Bill Archer demanded the resignation of Defense Secretary Les Aspin.
During the 1992 presidential campaign, Johnson blasted Clinton's record of not serving in the military during the Vietnam War and of paying a visit to the Soviet Union during his college years.
Source: Associated Press