Sanford Dixon Bishop, Jr.
Sanford Dixon Bishop, Jr.
House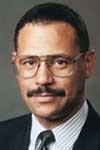 Birthdate: Feb. 4, 1947
Birth Place: Mobile, AL, United States
Residence: Albany, GA
Religion: Baptist
First Elected: 1992
Gender: Male

Candidacy
Party: Democratic
State: Georgia
Office: House
District: District 2

Education
Undergraduate: Morehouse College
Degree: BA

Graduate: Emory University
Degree: JD

Sanford Bishop was born in Mobile, Ala., and currently resides in Albany, Ga. He received a bachelor's degree in political science from Morehouse College and a law degree from Emory University.
In 1971, Bishop was awarded an internship with the NAACP's Legal Defense Fund in New York to study civil rights litigation.
Bishop returned to Georgia in 1972 to practice law in Columbus, and was a partner in the firm of Bishop and Buckner.
He served in the Georgia House of Representatives from 1977 to 1990, when he was elected to the state Senate. He is a past chairman of the Georgia Legislative Black Caucus.
Bishop was first elected to the U.S. House in 1992.
He and his wife, Vivian, have a daughter.
Profile
Sanford Bishop has spent his congressional career balancing the interests of farmers and the military _ two major industries in his southwest Georgia district.
Bishop will face Republican John House in the November 2012 election, testing once again whether his political balancing works in Georgia.
The balance has led to some interesting political choices: Bishop is one of a group of lawmakers who are members both of the Congressional Black Caucus, one of the most traditionally liberal groups in the House, and the Blue Dog Coalition of fiscally conservative Democrats.
When most members of the black caucus vehemently opposed a resolution supporting a possible unilateral war in Iraq, Bishop was one of a handful who supported it.
In January 2012, Bishop joined with Republican Rep. Rick Crawford to co-found the bipartisan Congressional Chicken Caucus.
Bishop has voted in favor of key domestic policies from President Barack Obama. For example, he voted in favor of the 2009 approximately $800 billion economic stimulus package.
The following year, Bishop voted for the 2010 health care reform bill, breaking ranks with Georgia's two other "Blue Dog" Democrats _ Reps. Jim Marshall and John Barrow _ who voted against it. His district has a large military population, and Bishop voted in support of repealing the Pentagon's "don't ask, don't tell" policy that prohibits gay military members from serving openly.
Bishop faced a rocky re-election campaign in 2010 but ultimately prevailed against Republican state Rep. Mike Keown. One embarrassing stumble came in July 2010 when one of his Washington aides sent a campaign-related press statement using his tax-funded e-mail and posted the material on Bishop's congressional website. Members of Congress are barred from using their public offices, staff or other resources to promote their campaigns. Bishop's Washington press secretary, Ashton McRae, issued a public apology and said he posted the campaign statement without Bishop's consent.
Later in the campaign, Bishop faced criticism for awarding education scholarships from the Congressional Black Caucus Foundation to his stepdaughter, niece, people with connections to Bishop's wife, a former intern and the niece of a staffer in Bishop's congressional office. Bishop said he was not involved in awarding those scholarships. He said, however, that his wife did have a role in the selection process.
Bishop's district has arguably become more secure since 2010. To bolster newly elected Republican Rep. Austin Scott, Republican leaders in Georgia's Statehouse gave some of the Republican-leaning regions that were in Bishop's district to Scott's district.
Bishop touts his service on the House Agriculture Committee, especially since he represents a prominent-peanut growing region. He campaigns aggressively on his ability as a member of the Appropriations Committee to secure federal funding for local projects.
"I'm in a position not only to have a seat at the table, but to help slice that pie into portions worthy of the needs of the people of the 2nd Congressional District," Bishop said during one debate.
Source: Associated Press