Scott Eugene DesJarlais
House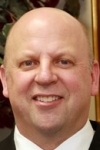 Birthdate: Feb. 21, 1964
Birth Place: Sturgis, SD, United States
Residence: Jasper, TN
Religion: Episcopal
First Elected: 2010
Gender: Male

Candidacy
Party: Republican
State: Tennessee
Office: House
District: District 4

Education
Undergraduate: University of South Dakota
Degree: BS

Graduate: University of South Dakota
Degree: MD

Scott DesJarlais was born in Sturgis, S.D., and currently resides in Jasper, Tenn. He received a bachelor's degree and a medical degree from the University of South Dakota.
In 1993, DesJarlais moved to rural Jasper, where he has a general medical practice.
He was elected to the U.S. House in 2010.
DesJarlais and his wife, Amy, have three children. He also has one child from a previous marriage.
Profile
Scott DesJarlais has faced heavy criticism in his bid for re-election from Tennessee's 4th Congressional District for saying no to his challenger's proposal for a series of debates in the run up to the November 2012 general election.
The challenger, state Sen. Eric Stewart, said he wanted to give the voters a chance to see where the candidates stand on issues. In a written reply, DesJarlais' rejected Stewart's proposal, citing his "lack of clarity on the issues." However, the freshman Republican congressman left open the option for a debate before the election.
The DesJarlais campaign in mid-July 2012 reported to the Federal Election Commission that it had raised more than $870,000.
DesJarlais has said his main priorities as a member of Congress are "ending the runaway spending that has turned our national debt into a national threat." He favors a balanced budget and opposes the 2010 health care reform bill, which he says he will work to repeal.
"Beyond this, I will work to decrease the tax burden Americans are facing and replace it with a fairer and flatter system that encourages economic growth and personal responsibility," he said. "The death tax must be eliminated and the capital gains tax must be lowered so our small businesses and our farms can grow."
He favors term limits "in order to elect citizen legislators who are more concerned with representing the people instead of career politicians who are only interested in helping themselves."
DesJarlais was the top spender in the House on mailings in the final quarter of 2011. He said that one of his top priorities was constituent outreach and that almost every mailing includes an issues survey that helps him make legislative decisions. "This strategy has allowed me to incorporate the opinions and beliefs of 4th District residents into the important issues being debated in Congress," he said.
The mailings however have drawn criticism from state Democrats, who have called them "political-style" communications. "If someone is going to run on cutting spending, the last thing they should be is the biggest mail spender in Washington, D.C.," state Democratic Party spokesman Brandon Puttbrese said. "It completely erodes his core message, which is cutting government, cutting spending. Especially when they're this political-style mail."
Source: Associated Press