Ernest Scott Garrett
House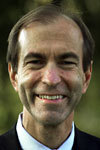 Birthdate: July 9, 1959
Birth Place: Englewood, NJ, United States
Residence: Wantage, NJ
Religion: Protestant
First Elected: 2002
Gender: Male

Candidacy
Party: Republican
State: New Jersey
Office: House
District: District 5

Education
Undergraduate: Montclair State University
Degree: BA

Graduate: Rutgers University
Degree: JD

Scott Garrett was born in Englewood, N.J., and now lives in Wantage. He earned a bachelor's degree from Montclair State University and a law degree from Rutgers University.
Garrett worked at the Sellar Richardson firm in Roseland from 1982 to 2002. He was a member of the state Assembly for 12 years.
He was elected to the U.S. House in 2002.
Garrett and his wife, Mary Ellen, have two daughters.
Profile
Scott Garrett, who advocated a conservative agenda during his 12 years in the New Jersey Assembly, brought his beliefs with him to the U.S. House and has never strayed from those ideals. He has said his top two legislative goals are homeland security and budget reform.
In 2012, there was intrigue around who might run against him in New Jersey's 5th District. Redistricting put incumbent Rep. Steve Rothman, a Democrat, in the same district. But rather than face Garrett, Rothman decided to challenge another Democrat, Bill Pascrell in June's primary _ a race he lost. With Rothman out, former New York Giants linebacker Harry Carson considered running but decided not to.
Garrett is facing Adam Gussen, the deputy mayor of Teaneck, in the November 2012 general election.
An opponent of the 2010 health care reform bill, Garrett sharply criticized the June 2012 Supreme Court decision upholding the bill. "In the annals of history, today will be remembered as the day in which the United States Supreme Court failed the American people," he said.
After the Federal Reserve issued a white paper in 2012 that included proposals to boost home sales, Garrett said he was taken aback that the agency would offer unsolicited advice to Congress, putting forward proposals which Garrett said mirrored in many ways ideas being pushed by the administration of President Barack Obama.
In 2011, he voted against a compromise deal that coupled an increase in the government's borrowing limit with the promise of more than $2 trillion in budget cuts over the next decade.
Garrett was a member of the House conference committee that reviewed in 2010 a proposed overhaul of financial regulations. Garret was a sharp critic of the legislation, claiming it introduced uncertainty into the nation's financial sector and gave "an alarming amount of power to government regulators and bureaucrats." Despite his opposition, the House passed the bill in June 2010.
Garrett drew attention in March 2009 for comments he made as the House considered legislation that would tax bonuses of employees from American International Group and other firms bailed out by taxpayers. The measure eventually passed.
Garrett complained that Obama administration had no exit strategy for "disentangling itself" from AIG. Referring to the federal bailout of the insurance company, Garrett said: "Part of me wants to say to some of the loudest critics (of the AIG bonuses), 'What did you expect and why weren't you asking more questions before?' I would argue that the real outrage now is the $170 billion of taxpayer money that's been pumped into this company and to what effect."
Garrett has been an outspoken opponent of giving taxpayer dollars to Wall Street banks, calling it "government intervention in the marketplace." He strongly opposed both President George W. Bush's October 2008 $700 billion bailout plan and the 2009 approximately $800 billion economic stimulus package, measures that divided New Jersey's House delegation.
Garrett has brought $4.9 million in federal funds to protect open space in the New Jersey Highlands region and to keep water supplies clean, attracting laurels from the New Jersey Association of Conservation Districts and the State Soil Conservation Committee.
Garrett is an active member of the Congressional Wildlife Refuge Caucus. He spoke out against the Omnibus Public Land Management Act proposed in early 2009, saying lawmakers had put too many "pork products" into the legislation.
He supported the partial privatization of Social Security, an increase to the child tax credit and a tax reduction on dividends and capital gains.
Source: Associated Press