Scott Gordon Perry
House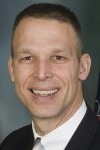 Birthdate: May 27, 1962
Birth Place: San Diego, CA, United States
Residence: Dillsburg, PA
Religion: Christian
Gender: Male

Candidacy
Party: Republican
State: Pennsylvania
Office: House
District: District 4

Education
Undergraduate: Pennsylvania State University
Degree: BS

Scott Perry was born in San Diego, Calif., and currently resides in Dillsburg, Pa. He received a bachelor's degree in business administration management from Pennsylvania State University.
In 1993, Perry started his own mechanical contracting firm, Hydrotech Mechanical Services Inc., in his adopted hometown of Dillsburg. He was elected to the state House in 2006, succeeding retiring state Rep. Bruce Smith.
Perry is also a colonel in the Pennsylvania Army National Guard and commands the Guard's 166th Regiment at Fort Indiantown Gap.
Perry is past president of the Pennsylvania Young Republicans, the Republican Club of York, the Northern York County Republican Club, and the York County Young Republicans. He has volunteered in previous GOP presidential campaigns.
He was elected in 2006 to the Pennsylvania House of Representatives from the 92nd District based in York County. He was unopposed in his bid for re-election in 2008 and 2010.
Perry and his wife, Christy, have two daughters.
Profile
Scott Perry is a conservative Republican who is looking to move on to Congress as he winds up his third term as an elected state representative in the Pennsylvania House.
Perry decided to run for Pennsylvania's 4th District seat after Republican U.S. Rep. Todd Platts announced he was retiring at the end of 2012 to fulfill his pledge to serve no more than 12 years.
Perry, who has been active in York County Republican politics for years, easily defeated six other challengers in the crowded GOP primary, with more than 50 percent of the vote. He is considered the favorite to defeat his Democratic challenger, Harry Perkinson, in the November 2012 general election.
As a state representative, Perry has been a proponent of cutting state spending. He sponsored a bill that was signed into law in 2011 by Gov. Tom Corbett legalizing the so-called Castle Doctrine, which makes it legal for Pennsylvania residents to use deadly force against armed attacks without having to retreat.
Perry has also sponsored bills to reduce the size of the Pennsylvania House of Representatives, to eliminate the state's inheritance _ or "death" tax _ and to authorize a Legislative Budget Finance Committee study of performance-based budgeting in Pennsylvania.
Perry is an outspoken proponent of gun owner's rights under the Second Amendment and has promised to defend in Congress the conservative principles and agenda that he's championed in the state House.
A colonel in the Pennsylvania Army National Guard, Perry's congressional platform includes strong defense spending.
Perry supports both a balanced budget amendment and federal tax reforms to make the system simpler and fairer. He has pledged to vote to repeal the 2010 health care reform bill. In response to the June 2012 Supreme Court decision upholding the legislation, Perry stated that while the decision upholds the technical aspects of the law, he still considers it to be bad policy.
Perry is opposed to abortion and has co-sponsored a state bill to toughen safety requirements for abortion clinics.
Source: Associated Press