Scott Peters
House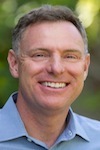 Birthdate: June 17, 1958
Birth Place: Springfield, OH, United States
Residence: San Diego, CA
Gender: Male

Candidacy
Party: Democratic
State: California
Office: House
District: District 52

Education
Undergraduate: Duke University
Degree: BA

Graduate: New York University
Degree: JD

Scott Peters was born in Springfield, Ohio, to a Lutheran minister and a homemaker, and was raised in the suburbs of Detroit and New York. He earned a bachelor's from Duke University and a law degree from New York University.
After serving as a deputy city attorney in San Diego from 1991 to 1996, Peters worked in private practice, advising businesses and government agencies on environmental issues. He served on the San Diego City Council from 2000 to 2008 and became a commissioner of the San Diego Unified Port District in 2009.
Peters and his wife, Lynn, have a daughter and a son.
Profile
Scott Peters promotes himself as a consensus builder, noting that his colleagues voted him president of the San Diego City Council from 2006 to 2008.
The moderate Democrat faced a tough primary challenge in 2012 in his first run for Congress. He narrowly won out over former state assemblywoman Lori Saldana, who had strong support from the party's more liberal base, finishing less than 2 percent of the vote ahead of Saldana. He faces incumbent Republican Rep. Brian Bilbray in the November general election.
Redistricting emboldened Democrats to believe Peters has a good shot of unseating Bilbray, making the race a high priority for the party. Republicans had an 11-point advantage in voter registration in Bilbray's district in 2010 but his new district gives Republicans only a three-point advantage.
Peters has criticized Bilbray for opposing the Lilly Ledbetter Fair Pay Act, signed into law by President Barack Obama, which makes it easier for women to challenge unequal pay.
Peters has fielded heavy criticism for his City Council vote to support a disastrous 2002 labor deal that increased pension payments for city workers, threatening the city's financial stability. Peters has said the vote was a mistake and highlighted steps that the Council later took to fix its finances.
Bilbray and Saldana have criticized Peters for not releasing his tax returns.
Peters became wealthy as a private attorney representing business and government agencies on environmental matters. Before law school, he served as an economist at the U.S. Environmental Protection Agency.
Forced out of the City Council by term limits after eight years, Peters finished third in the 2008 election for San Diego city attorney. Since 2009, he has been a commissioner of the San Diego Unified Port District, which oversees the region's waterfront. He was appointed to the position by the San Diego City Council.
Source: Associated Press