Scott Randall Tipton
House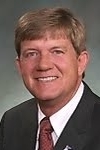 Birthdate: Nov. 9, 1956
Birth Place: Espanola, NM, United States
Residence: Cortez, CO
Religion: Christian
First Elected: 2010
Gender: Male

Candidacy
Party: Republican
State: Colorado
Office: House
District: District 3

Education
Undergraduate: Fort Lewis College
Degree: BA

Scott Tipton was born in Espanola, N.M., and grew up in Cortez, Colo., where he now resides. He earned a bachelor's in political science in 1978 from Fort Lewis College, becoming the first in his family to obtain a college degree.
Tipton started a business in Cortez selling American Indian pottery. Mesa Verde Indian Pottery and Mesa Verde Trading have become some of the best-known pottery firms in southwest Colorado's Four Corners region.
Tipton joined the Montezuma County Republican Party in the 1990s and rose to chair the GOP in the 3rd Congressional District, a post he held for eight years. Tipton is a board member for Mesa Verde National Park and the Crow Canyon Archeological Center. He also served on the Pueblo Community College Advisory Board.
Tipton was elected to the state House in 2008 and to the 3rd Congressional District in 2010.
He and his wife, Jean, have two daughters.
Profile
Scott Tipton traces his start in politics to his mother, who gave him a Barry Goldwater sign to wave at a parade at the age of 7. As a young adult, Tipton volunteered to campaign for President Ronald Reagan.
Tipton challenged Democratic Rep. John Salazar in 2006 with a campaign that focused on expanding oil and gas drilling, a major jobs sector on Colorado's Western Slope. At a Grand Junction debate, Tipton repeatedly attacked Salazar's voting record on offshore oil drilling, drilling in the Arctic National Wildlife Refuge and oil shale development in western Colorado.
Tipton called for abolishing the federal income tax in favor of a flat tax or national sales tax. He lost to Salazar, winning only 37 percent of the vote.
Tipton won election to the state House in 2008. In 2010, he faced Salazar again and won. Many considered it an upset. Tipton campaigned on cutting federal spending and repealing the 2010 health care reform bill.
In Congress, he voted to renew the payroll tax cut and jobless benefits. He has advocated for decreasing regulations to expand clean hydropower development and says the U.S. needs an "all of the above" energy policy.
He is against privatizing Social Security. Agriculture is a big industry in Tipton's district, and he wants the government to ease regulations on farmers and ranchers to help them succeed.
Tipton has also had some hiccups during his first term. In 2011, he wrote a letter of apology to the House Ethics Committee because his daughter, who works for a company run by Tipton's nephew, included Tipton's name in letters trying to drum up business.
Tipton's district is considered one of the state's most competitive and it frequently switches parties. The largely rural district is one of three in the state that's nearly evenly split among Democrats, Republicans and independents.
In the 2012 general election, Tipton faces challenger Sal Pace, a former state lawmaker who once served as the Democrats' leader in the House. Tipton has struggled in fundraising and has been outraised by Pace during some quarters.
Source: Associated Press