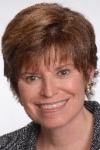 Birthdate: Oct. 16, 1951
Birth Place: Dayton, OH, United States
Residence: Yellow Springs, OH
Religion: Protestant
Gender: Female

Candidacy
Education
Sharen Neuhardt was born and raised in Dayton, Ohio; daughter of a Dayton police officer who also served as president of the Fraternal Order of Police local.
She worked her way through Northwestern University and earned a law degree from Georgetown University.
She went into business law and became a partner at Thompson Hine. She served as general counsel for Lexis/Nexis, based in the Dayton area.
Neuhardt and her husband David, also a Thompson Hine partner, bought a farm in Greene County in 1994. They have two children. The couple also raised a foster son who was 11 when he fled Rwanda's genocide, according to her campaign web site.
Profile
Sharen Neuhardt first ran for Congress in 2008, taking on Republican Steve Austria in what was then the 7th Congressional District. Austria won with 58 percent of the vote to her 42 percent.
When Ohio's districts were redrawn to reflect the loss of two seats after the 2010 U.S. census, Neuhardt saw an opportunity to run in the new 10th District that included both of her home counties, Montgomery and Greene.
She won a six-candidate Democratic primary in March 2012, taking 36 percent of the vote. Rep. Mike Turner won the Republican nomination after Austria retired rather than face off against him in the redrawn district that threw them together.
She has campaigned on promising to protect the middle class and on saving and bringing jobs in the region, revitalizing manufacturing, "leveling the global playing field" on trade, and investing in replacing "crumbling infrastructure." She has also said she would protect Social Security and Medicare benefits. She said new voices were needed in Washington to break the stalemate.
Neuhardt has also worked for a "Truth Team" for President Barack Obama, aimed at countering Republican attacks on the president in 2012.
Source: Associated Press