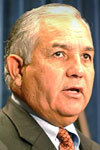 Birthdate: Nov. 10, 1944
Birth Place: Canutillo, TX, United States
Residence: El Paso, TX
Religion: Catholic
Gender: Male

Candidacy
Education
Silvestre Reyes was born in Canutillo, Texas, and lives in El Paso. He earned an associate degree from El Paso Community College and studied criminal justice and police administration at the University of Texas at Austin.
Reyes served in the U.S. Army as a helicopter crew chief from 1966 to 1968. He entered the Border Patrol in 1969 and transferred to El Paso in 1974 as an immigration inspector.
Reyes was appointed chief patrol agent in the McAllen Border Patrol Sector in 1984. He was appointed chief agent of the El Paso Sector in 1993 and retired in November 1995.
He was first elected to the U.S. House in 1996.
Reyes and his wife, Carolina, have three children.
Profile
Silvestre Reyes is a leader on national intelligence issues, and during his nine terms in Congress he has returned to his roots as a border patrol agent in promoting border and port security. He was defeated in Texas' 2012 Democratic primary by Beto O'Rourke.
Reyes voted in favor of the 2010 health care reform bill and has continued his vocal support for comprehensive immigration reform.
He served on the House Permanent Select Committee on Intelligence in 2006 and has voiced support for President Barack Obama's 2009 decision to release previously classified information from the Department of Justice Office of Legal Counsel that outlined the once-secret CIA interrogation program.
In April 2012 during defense budget negotiations Reyes questioned the Pentagon's proposal to retire 18 of the Air Force's Global Hawk drones.
"Each Global Hawk was procured for more than $100 million, so shelving them when they are almost brand new at a time when the demand for intelligence has never been higher makes no sense," Reyes said.
Since the Sept. 11 terrorist attacks, Reyes has tried to walk the fine line of creating a secure U.S.-Mexico border without hampering families with members on both sides of the divide. He also has pressed for a model that would make daily cross-border business travel tenable.
Reyes voted against the criminalization of illegal immigrants and the controversial border fence plan approved under President George W. Bush. He has continued to oppose both ideas, though fence construction is nearly complete.
Reyes has opposed restricting legal immigration, saying, "It unfairly affects those individuals who have followed the rules and are on the waiting lists to legally immigrate to the United States."
He has supported the Bracero Justice Act, which was written to allow braceros _ Mexican guest workers who worked in the United States during a labor shortage that followed World War II _ to have a chance to collect back wages.
Reyes, whose district includes the U.S. Army's Fort Bliss, also has monitored the handling of health claims by the Veterans Benefits Administration.
He led a meeting in late 2001 in El Paso where then-Veterans Affairs Secretary Anthony Principi said he would do everything he could to reduce the backlog. Principi instituted a quota system for VA claims that requires workers to complete a certain number of cases each day, which Reyes criticized.
As a member of the House Select Committee on Intelligence, Reyes was critical of the war in Iraq. He blamed intelligence flaws for Sept. 11 and said he saw no link between Iraq and the al-Qaida attacks.
Source: Associated Press