Spencer Thomas Bachus, III
Spencer Thomas Bachus, III
House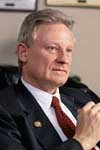 Birthdate: Dec. 28, 1947
Birth Place: Birmingham, AL, United States
Residence: Birmingham, AL
Religion: Baptist
First Elected: 1992
Gender: Male

Candidacy
Party: Republican
State: Alabama
Office: House
District: District 6

Education
Undergraduate: Auburn University
Degree: BA

Graduate: University of Alabama
Degree: JD

Spencer Bachus was born in Birmingham, Ala., and now lives in Vestavia Hills. He earned a bachelor's from Auburn University in 1969 and a law degree from the University of Alabama in 1972.
Bachus spent a decade working in private business and practicing law. He was elected in 1982 to the Alabama Senate and served in the state House from 1984 to 1987.
He won election to the State Board of Education _ the first Republican to do so _ and later ran unsuccessfully for state attorney general.
Bachus became chairman of the Alabama Republican Party in 1991, serving for a year.
He was elected to the U.S. House in 1992.
Bachus has three children with his wife, Linda, who also has two children from a previous marriage.
Profile
Spencer Bachus, a low-key conservative and a leading Republican voice on the economy, never sweated an election until the 2012 primary, when critics raised questions about his personal financial activities during Congress' $700 billion bailout of Wall Street.
Running as a stanch opponent of President Barack Obama in one of Alabama's most heavily Republican regions, Bachus defeated a well-known state senator and two other challengers in the GOP primary, and then was cleared of wrongdoing by the Office of Congressional Ethics.
He returned to Washington in typical fashion: quietly, as chairman of the House Financial Services Committee, a position that gives Bachus a leading Republican voice on the economy and banking regulations.
Bachus has been criticized for taking millions in campaign donations from the financial industry over more than two decades, but he said his votes are not influenced by the money.
Bachus blends his strongly conservative voting record with his outspoken advocacy on humanitarian issues. Aside from fighting government rules he claims hurt business, Bachus has taken up issues including providing tornado shelters in mobile home communities, opposing Internet gambling and forgiving U.S. debt owed by developing countries.
Bachus, the senior member of Alabama's House delegation, can adopt a bipartisan approach, such as his backing of a bill supported by Democrats and Republicans that would require investment advisers to better regulate themselves as an industry.
"The investing public deserves better oversight of these professionals to whom they have entrusted their money and, in many cases, their retirement future," Bachus wrote in an August 2012 opinion piece published in The Wall Street Journal.
Bachus' willingness to work across the aisle doesn't always play well with the most conservative wing of his party. Bachus turned back tea party opposition in the primaries both in 2010 and 2012, when the Texas-based Campaign for Primary Accountability _ which opposed incumbents _ aired television commercials raising questions about Bachus' personal ethics, particularly his actions during the 2008 bailout.
Then the senior GOP member of the Financial Services Committee, Bachus made more than three dozen stock trades in the period surrounding the 2008 financial collapse and the subsequent rescue approved by Congress. He also had participated in closed briefings by Federal Reserve Chairman Ben Bernanke and then-Treasury Secretary Henry Paulson.
Records showed Bachus had a net loss of more than $19,000 on the trades, and he denied using inside information in the deals. The ethics review cleared him of improprieties.
While Democrats from the governor's office to local courthouses once controlled Alabama, Bachus has long been part of the state's Republican establishment. He broke a partisan barrier in 1986 by become the first Republican elected to the State Board of Education.
Source: Associated Press