Stephen 'Steve' Ira Cohen
Stephen 'Steve' Ira Cohen
House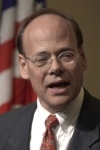 Birthdate: May 24, 1948
Birth Place: Memphis, TN, United States
Residence: Memphis, TN
Religion: Judaism
First Elected: 2006
Gender: Male

Candidacy
Party: Democratic
State: Tennessee
Office: House
District: District 9

Education
Undergraduate: Vanderbilt University
Degree: BA

Graduate: University of Memphis
Degree: JD

Steve Cohen was born and raised in Memphis, Tenn., where he still resides. He earned a bachelor's degree in 1971 from Vanderbilt University and a law degree in 1973 from the University of Memphis.
He was elected in 1977 to the Tennessee Constitutional Convention. He held local office in Shelby County before he was elected in 1982 to the state Senate, where he served for 24 years.
He was elected to the U.S. House in 2006, replacing Rep. Harold Ford Jr.
Cohen is Tennessee's only Jewish member of Congress and is one of only two white members of the U.S. House representing mostly black districts.
Cohen is single.
Profile
Steve Cohen became known as one of the liberal members of the Tennessee Legislature during his 24 years in the state Senate. He built a solid record as a champion of civil rights and minority causes and was a leading legislative proponent of a statewide lottery to finance college scholarships.
As a member of the U.S. House, he voted in favor of the 2009 approximately $800 billion economic stimulus package promoted by President Barack Obama. He was an early backer of an amendment to the legislation that gives $10 billion to the National Institutes of Health.
Cohen's election to Congress in 2006 marked the first time in three decades that Tennessee's predominantly black 9th District sent a white representative to Washington. He defeated 12 black candidates in the Democratic primary and held off critics who argued the Memphis district should have an African-American representative.
The issue continued in his 2008 re-election bid and again in 2010, with former Memphis Mayor Willie Herenton, who is black, challenging Cohen in the Democratic primary. Herenton argued that an African-American is the best person to represent majority-black Memphis. Cohen defeated the former mayor with 79 percent of the vote.
Endorsed by Obama, Cohen received 89 percent of the vote in the August 2012 Democratic primary, defeating Tomeka Hart, a Memphis City Schools board member. In the November general election, Cohen faces Republican George Flinn Jr. and two independent party candidates.
Cohen has long been an outspoken opponent of the war in Iraq and a champion of comprehensive health care. He supported the 2010 health care reform bill and was a prime mover on a House resolution that apologized to black Americans for the wrongs committed against their ancestors through slavery and forced segregation.
Since 2010, Cohen has been active in supporting small businesses, securing funding for Memphis-area hospitals and special projects, such as the creation of a pedestrian trail across the Mississippi River that will connect Memphis and West Memphis, Ark.
In 2012, the House passed Cohen's amendment seeking to reduce the Afghanistan Infrastructure Fund by $175 million in the FY2013 Defense Department Appropriations bill.
Source: Associated Press