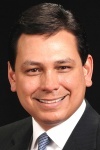 Birthdate: Oct. 12, 1958
Birth Place: Cincinnati, OH, United States
Residence: Beavercreek, OH
Religion: Catholic
Gender: Male

Candidacy
Education
Steve Austria was born in Cincinnati and lives in Beavercreek, a suburb of Dayton. He earned a bachelor's from Marquette University.
His family was one of nine selected in 1984 by the Reagan administration as "The Great American Family."
Austria ran a small business working as a financial adviser before winning election to the state House in 1998. He was elected in 2000 to the state Senate, where he served for eight years and was elected majority whip.
Austria was elected to the U.S. House in 2008 and served until 2012.
He and his wife, Eileen, have three sons.
Profile
Steve Austria decided not to run against fellow Rep. Mike Turner in 2012 after they were moved into the redrawn 10th Congressional District in southwest Ohio.
In his second term in Congress, Austria joined fellow Republicans in pushing to repeal the 2010 health care reform law.
"It is the responsibility of Congress to carry out the will of the people, and I intend to work with our leadership in repealing this job-killing health care reform bill and replacing it with a commonsense bill that is focused on lowering the high cost of health care, making it more affordable for hard-working families and small businesses, and protecting individual rights," Austria said after the U.S. Supreme Court upheld the law.
Austria also served on the House Appropriations Committee, which oversees discretionary spending and funding for the Department of Defense.
He was the first first-generation Filipino elected to Congress.
Austria said upon his election in 2008 that he believed voters who were enthused by Democrats were willing to vote for a tested Republican.
He was among several congressional incumbents who won swift victories in their respective 2010 primaries.
Austria voted against the 2010 health care reform bill and against an overhaul of financial regulations voted on in the House in June 2010.
He was among eight Republican U.S. House members from Ohio to ask Gov. Ted Strickland in March 2009 to establish an independent, bipartisan oversight board for the distribution of federal economic stimulus funds in Ohio.
In 2009, Austria joined other Republicans in the Ohio House delegation opposing a resolution of disapproval against Rep. Joe Wilson, who shouted "You lie!" during President Barack Obama's speech to a joint session of Congress.
Austria boasted a perfect-attendance voting record during his tenure in the Ohio Legislature, where he worked to secure air base funding.
He was twice majority whip in the Ohio Senate and sponsored a sex-offender law that increased the length of time convicted sex offenders must register with police. The state Legislature passed the law in 2007 to comply with a federal law that required states to increase sex offender registration requirements or lose some federal funding.
He introduced legislation in the state Legislature that limited the public release of veterans' discharge papers. He created a criminal penalty for the use of a deceased military person's identity for commercial purposes or personal gain and sought to make higher education in Ohio more affordable for state service members.
Source: Associated Press