William Steve Southerland, II
William Steve Southerland, II
House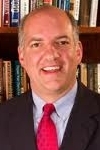 Birthdate: Oct. 10, 1965
Birth Place: Panama City, FL, United States
Residence: Panama City, FL
Religion: Southern Baptist
First Elected: 2010
Gender: Male

Candidacy
Party: Republican
State: Florida
Office: House
District: District 2

Education
Undergraduate: Troy University
Degree: BS

Steve Southerland was born and currently resides in Panama City, Fla. He earned an associate degree in mortuary science from Jefferson State (Ala.) Junior College and a bachelor's degree in business administration from Troy University.
Southerland operates Southerland Family Funeral Homes, which was started by his grandfather and is based in Panama City.
He has served on numerous boards and commissions including the Bay County Chamber of Commerce, the Bay Defense Alliance, the Florida State University Development Board and the Bay Education Foundation.
He was elected to the U.S. House in 2010.
Southerland and wife, Susan, have four daughters.
Profile
Steve Southerland ousted former U.S. Rep. Allen Boyd in 2010 in the race for Florida's 2nd Congressional District. In 2012, he faces a challenge from Democrat Al Lawson, a former longtime state legislator who is well known across the district.
House Majority Leader Eric Cantor led a fundraiser for Southerland a week before Florida's primary in August 2012.
Southerland had a fairly quiet initial term in Washington, although he made news in August 2012 for a dip he took in the Sea of Galilee in a so-called fact-finding trip to the Middle East.
Southerland says he did nothing wrong. Many lawmakers on the mission said they swam in the famed waters because of its religious significance; others claimed to be cooling off after a long day.
Southerland filed legislation in early 2012 to prohibit the Environmental Protection Agency from adopting its own rules for Florida if the agency administrator determines that state rules meet the requirements of the federal Water Pollution Control Act. It would not affect other states.
Agriculture, business and utility interests backed the state's version. They contended the tougher federal rules would be too expensive to implement.
Environmentalists argued that the state's proposed rules setting numeric nutrient standards for phosphorous and nitrogen in lakes, streams and other water bodies would be too weak to prevent or clean up toxic algae choking Florida's waterways. The nutrients are contained in such pollutants as sewage, manure and fertilizer.
Source: Associated Press