Stephen 'Steve' Allen Womack
Stephen 'Steve' Allen Womack
House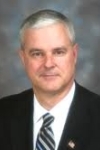 Birthdate: Feb. 18, 1957
Birth Place: Russellville, AR, United States
Residence: Rogers, AR
Religion: Southern Baptist
First Elected: 2010
Gender: Male

Candidacy
Party: Republican
State: Arkansas
Office: House
District: District 3

Education
Undergraduate: Arkansas Tech University
Degree: BA

Steve Womack was born in Russellville, Ark., and now resides in Rogers. He earned a bachelor's degree in 1979 from Arkansas Tech University.
After graduating, Womack was commissioned a second lieutenant in the Arkansas Army National Guard. He retired in 2009 with the rank of colonel.
Womack moved to Rogers in 1978 to start KURM Radio with his father. Womack managed KURM from 1979 to 1990.
He served as the executive officer of the U.S. Army ROTC program at the University of Arkansas from 1990 to 1996.
Womack worked as a financial consultant with Merrill Lynch before being appointed to the Rogers City Council in 1983 to fill an unexpired term. He was elected to the City Council in 1996 and was elected mayor in 1998.
Womack and his wife, Terri, have three sons.
Profile
Steve Womack represents Arkansas' most solidly Republican congressional district. In 2012, he faces no major party opposition in his bid for re-election to the 3rd District seat; his Democratic challenger, Ken Aden, withdrew over questions about his military record.
Womack won the seat in the 2010 election, defeating Democrat David Whitaker. The two were running to fill the seat vacated by Republican John Boozman, who was elected to the Senate that year.
Womack has been a reliable vote for Republicans since taking office, joining with GOP leaders on votes to repeal the 2010 health care reform bill and a June 2012 House contempt vote against Attorney General Eric Holder. He gained national attention in 2011 for a proposal to cut off funding for President Barack Obama's teleprompter. Womack dropped the proposal after he said he couldn't find out how much the move would save.
Womack joined with other Republicans in late 2011 to support a short-term extension of the payroll tax cut. The move came days after he had rejected the two-month extension in favor of a one-year renewal.
"In the last few days, it has become obvious that the level of bipartisan support the two-month extension has in the Senate would be difficult to overcome," Womack said.
Womack was elected to the Rogers City Council in 1996, and then was elected mayor of Rogers in 1998, eventually serving 12 years. He was unopposed for re-election in 2002 and 2006.
During his first congressional campaign in 2010, Womack touted his efforts as mayor to crack down on illegal immigration. He pushed for Rogers to be included in a U.S. Immigration and Customs Enforcement program that allows local and state police officers to perform immigration checks and take part in field operations.
Womack said the shooting of an undercover Rogers police officer while serving a warrant on an illegal immigrant spurred him to push for the city's inclusion in the immigration program.
But the city's focus on immigration enforcement also has raised racial profiling concerns. Hispanic motorists in 2003 sued the city, claiming that they had been racially profiled by police. A settlement required police to form a committee that would meet at least twice a year to discuss efforts to improve relations with the Hispanic community.
Source: Associated Press