Steven Alexzander Horsford
Steven Alexzander Horsford
House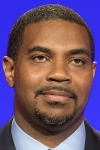 Birthdate: April 29, 1973
Birth Place: Las Vegas, NV, United States
Residence: Las Vegas, NV
Religion: Christian
Gender: Male

Candidacy
Party: Democratic
State: Nevada
Office: House
District: District 4

Education
Undergraduate: University of Nevada - Reno
Degree: Attended

Steven Horsford was born and resides in Las Vegas. He studied political science and communications at the University of Nevada-Reno but left school to return home and care for his younger siblings without earning a degree.
He learned the struggles of life at an early age. His mother battled with addiction and when he was 19, his father was shot and killed.
From 1996 to 2001, he was director of government affairs for R& R Partners, a statewide public relations and lobbying firm. In 2001, he became CEO of the Culinary Academy of Las Vegas.
Horsford was elected to the Nevada Senate in 2004 and named majority leader in 2008.
Horsford and his wife, Sonya, have three children.
Profile
Steven Horsford was elected to the Nevada Senate in 2004 and four years later became the first black to ascend to majority leader in the state's upper chamber. He is running for Nevada's newly created 4th Congressional District, facing Republican Danny Tarkanian and two minor party candidates, in the November 2012 general election.
During his time in the state Senate, he served as chairman of the Finance Committee and the Interim Finance Committee. He was vice chairman of the Revenue Committee and was a member of the Legislative Operations and Elections; Health and Education; and Government Affairs committees.
In his legislative career, he advocated for education, opposed cuts to Medicaid and supported tax abatements to spur renewable energy projects. In 2009, he sponsored a green energy initiative that authorized using federal stimulus funds to train about 3,200 workers to perform weatherization, energy retrofit applications and energy audits.
He backed a bill requiring mediation in home foreclosures. If elected, he said he would seek way to negotiate lower interest rates and principals for homeowners in hard-hit Nevada and expand mediation programs.
During the 2011 session, he succeeded in his push for a law reigning in tax deductions claimed by Nevada's mining industry and creating a commission to oversee the industry.
He also supported a bill floated by Democrats to raise $1.2 billion by imposing a margins tax on businesses. The measure, introduced late in the 2011 session, was abandoned after it became clear it lacked the two-thirds vote needed to pass and overturn a promised veto by Republican Gov. Brian Sandoval.
Horsford favors the 2010 health care reform bill and was "happy" with the Supreme Court's June 2012 decision to uphold the bill. He opposes privatization of Social Security or cuts to Medicare.
Horsford said he supports early childhood education and would seek increased funding for Head Start and Early Head Start programs.
Source: Associated Press