Steven Brett Guthrie
House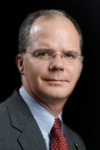 Birthdate: Feb. 18, 1964
Birth Place: Florence, AL, United States
Residence: Bowling Green, KY
Religion: Church of Christ
First Elected: 2008
Gender: Male

Candidacy
Party: Republican
State: Kentucky
Office: House
District: District 2

Education
Undergraduate: U.S. Military Academy
Degree: BS

Graduate: Yale University
Degree: MA

Brett Guthrie was born in Florence, Ala., and resides in Bowling Green, Ky. He earned a bachelor's degree from the U.S. Military Academy and served as a field artillery officer in the 101st Airborne Division at Fort Campbell, Ky. He earned a master's degree in public and private management from Yale University.
Guthrie is vice president at Trace Die Cast, his family's auto parts manufacturing business that started with five employees and has grown to employ more than 500 people in Bowling Green.
Guthrie was elected in 1998 to the Kentucky Senate, where he served as chairman of the Transportation Committee.
He was elected to the U.S. House in 2008.
Guthrie and his wife, Beth, have three children.
Profile
Brett Guthrie, representing Kentucky's 2nd District, has shown willingness in Congress to vote against high-profile initiatives pushed by President Barack Obama. In 2009 he opposed the approximately $800 billion economic stimulus package, calling it a partisan, "backroom deal" bloated with wasteful spending. He said the stimulus offered no immediate remedy to the severe recession.
He also voted against the 2010 health care reform bill. Responding to the June 2012 Supreme Court decision on the law, Guthrie said, "While the Supreme Court determined today that the health care law is constitutional, it does not mean it is good policy. Today's ruling does not change my belief that this law was an overreach and a burden on small businesses and patients. I have voted to repeal the president's health care law and will continue to advocate for its repeal. Additionally, I will push for critical reforms that focus on controlling costs and empowering patients within the health care system."
Guthrie sits on the Energy and Commerce Committee.
In 2011, he traveled to Afghanistan with other members of Congress, meeting with U.S. military commanders and eating lunch with privates. He said he was confident the U.S. military would be successful in dislodging Taliban fighters.
Guthrie chose a subject close to his heart _ the military _ when introducing his first bill following his 2008 election. His measure would provide families of military members killed in combat the same health care coverage they received while the service member was alive. He continues to advocate for veterans' issues, introducing legislation in 2011 to improve coverage and care of soldiers returning home with urological trauma.
Guthrie, seeking his third term, will face Democrat David Lynn Williams in the 2012 general election.
In Guthrie's 2008 run for Congress, he tapped into his district's conservative leanings to keep the seat in Republican hands. He backed expanded domestic oil drilling _ including in the Alaskan wilderness and off the nation's coasts _ to lessen dependence on imports. He supported market-oriented approaches to improving access to health care, calling for greater competition in the insurance market to help lower costs.
The mostly rural 2nd District, covering parts of central and western Kentucky, was a longtime Democratic stronghold but has been solidly in Republican hands since 1994.
Guthrie became known in the Kentucky Senate _ where he was chairman of the Transportation Committee _ for his soft-spoken and workmanlike manner.
Source: Associated Press