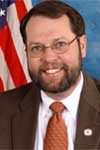 Birthdate: July 22, 1954
Birth Place: Cleveland, OH, United States
Residence: Concord Township, OH
Religion: Methodist
Gender: Male

Candidacy
Education
Steven LaTourette was born in Cleveland and resides in Concord Township, Ohio. LaTourette earned a bachelor's in history from the University of Michigan in 1976 and a law degree from Cleveland State University in 1979.
He worked as a public defender in Lake County from 1980 to 1983, before going into private practice for six years. He was Lake County's prosecutor when he was elected to the U.S. House in 1994.
LaTourette announced in July 2012 that he would not seek another term in Congress.
LaTourette has five children, four by a previous marriage. His wife, Jennifer, is a lobbyist at Van Scoyoc Associates in Washington, D.C., whose clients include the Cleveland Clinic Foundation.
Profile
Citing frustration with the climate in Congress, longtime Republican U.S. Rep. Steven LaTourette of Ohio announced in July 2012 he will retire.
LaTourette, a nine-term lawmaker and a close confidant of House Speaker John Boehner, said in a news conference that he wouldn't seek another term. He said the atmosphere in the House "no longer encourages the finding of common ground." He cited the toll that the job has taken on him and said he didn't want to do it any longer.
Republican leaders in the 14th Congressional District selected Geauga County Prosecutor David Joyce to replace LaTourette on the November ballot. The district stretches northeast along the Interstate 90 corridor from Cleveland's eastern suburbs to the Ohio state line near Erie, Pa., and south toward Akron and Warren.
LaTourette, a former Lake County prosecutor who collaborated with Joyce on crime issues, was elected to Congress during the Republican wave in 1994, when the party seized control of the House after decades in the minority.
LaTourette worked with Democratic Rep. Jim Cooper on a compromise budget that combined tax increases with spending cuts in an attempt to curb federal deficits. The measure failed in March 2012, getting only 38 votes.
Groups from across the political spectrum fought the proposal.
"I wasn't surprised that both the right and the left came at us," LaTourette said. "I was surprised at the ferocity of the attacks."
He also reached across the aisle in 2012 to co-sponsor with Democratic Rep. Marcia Fudge legislation to provide $4 billion to finance demolition of vacant, foreclosed and abandoned homes, a key issue in Fudge's Cleveland district.
LaTourette worked with Democratic Sen. Sherrod Brown to preserve jobs and funding for the NASA Glenn Research Center, located on the opposite side of the Cleveland metropolitan area from LaTourette's district.
LaTourette, whose district hugs the Lake Erie coast between Cleveland and Erie, Pa., lobbied for national standards governing ballast water taken in or discharged by ships to maintain stability. He said a rival proposal by New York state was 100 times stricter than current international standards and would harm shipping commerce.
His no-nonsense reputation emerged four years before his election to Congress, and he has taken a conservative approach to politics in the sprawling district.
When LaTourette was first elected, he said he would limit himself to four two-year terms. He then made it five two-year terms before deciding to seek a sixth term.
Source: Associated Press