Steven 'Steve' R. Rothman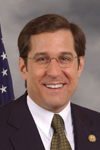 Birthdate: Oct. 14, 1952
Birth Place: Englewood, NJ, United States
Residence: Fair Lawn, NJ
Religion: Judaism
Gender: Male

Candidacy
Education
Steve Rothman was born in Englewood, N.J., and now resides in Fair Lawn. He earned a bachelor's degree from Syracuse University in 1974 and a law degree from Washington University in 1977.
Rothman practiced law until 1993. He was mayor of Englewood from 1983 to 1989, and he served as a Bergen County Surrogate Court judge from 1993 to 1996.
He was elected to the U.S. House in 1996.
Rothman is divorced. He has two children and three stepchildren.
Profile
Steve Rothman's bid for a ninth congressional term ended in June 2012, when he lost the Democratic primary for the redrawn 9th Congressional District to Rep. Bill Pascrell. Bill Clinton backed Pascrell while Rothman drew support from President Barack Obama.
Rothman co-sponsored legislation signed by Obama in July 2010 that imposed tough new sanctions against Iran over its alleged nuclear weapons program. Rothman says the measure sends "a very clear message" to all countries and companies that they can do business with either the United States or with Iran.
Rothman was among several officials in summer 2009 who spoke out against Libyan leader Moammar Gadhafi's plans to stay at a Libyan-owned estate in the northern New Jersey community of Englewood. Many town residents lost relatives in the 1988 bombing of Pan Am Flight 103 over Lockerbie, Scotland, an incident widely believed to be the work of Libyan intelligence.
He supports the 2010 health care reform bill and applauded the June 2012 Supreme Court decision upholding the law. "This is a great day for our nation and for the more than 30 million Americans who will now have access to affordable health insurance, and all those with pre-existing medical conditions, seniors who are struggling to afford their medication, students who wish to stay on their parent's health insurance, those who suffer catastrophic illness resulting in extraordinary health care costs and were threatened with losing their health insurance, and all American citizens who will have access to more affordable health care," he said.
Rothman supported measures in 2009 seeking the recovery of bonuses that American International Group and other companies that received federal bailout money had paid to some of their employees. He also supported legislation intended to help homeowners restructure their mortgages and avoid foreclosure.
He has been a member since 2001 of the House Appropriations Committee, which has broad authority over how federal dollars are spent. The position was part of New Jersey's reward for being a state so loyal to the Democratic Party. He gave up his seats on the International Relations and Judiciary committees when he received the Appropriations post.
Rothman helped secure more than $2 million in federal economic stimulus funds to support senior nutrition programs throughout New Jersey.
He won praise for helping to reduce the number of big, noisy jets flying into Teterboro Airport.
Rothman pushed plans in 2005 to install barriers at the airport that are designed to stop jets from careening off runways. The move came after several incidents of planes either crashing or skidding off the runway, including an accident in February 2005 that left 20 people injured. The barriers were installed a short time later.
Rothman was the first high-ranking New Jersey Democrat to endorse Obama's 2008 presidential campaign, and he has made it no secret that he would like to be a U.S. senator.
He was, however, the only one of New Jersey's seven Democratic congressmen who did not throw his hat into the ring when Sen. Jon Corzine was elected governor in 2005. Rothman supported Rep. Robert Menendez, who was ultimately chosen to serve out the remaining year of Corzine's Senate term.
Rothman maintains mostly moderate-to-liberal views on many issues. He initially opposed same-sex marriage, instead favoring civil unions. But he announced in July 2008 that he would support gay and lesbian couples' right to marry _ and became a member of the House Gay, Lesbian, Bisexual and Transgender Caucus _ after his 19-year-old stepdaughter, who is a lesbian, convinced him that same-sex couples deserve the right to marry.
Source: Associated Press