Steven 'Steve' Ernest Stockman
Steven 'Steve' Ernest Stockman
House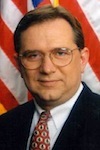 Birthdate: Nov. 14, 1956
Birth Place: Bloomfield Hills, MI, United States
Residence: Friendswood, TX
Religion: Baptist
Gender: Male

Candidacy
Party: Republican
State: Texas
Office: House
District: District 36

Education
Undergraduate: San Jacinto College
Degree: Attended

Undergraduate: University of Houston - Clear Lake
Degree: BA

Steve Stockman was born in Bloomfield Hills, Mich. He studied for two years at San Jacinto College and earned a bachelor's degree from the University of Houston-Clear Lake in 1990.
Soon after receiving his degree, Stockman found himself unemployed and homeless. He lived on the street and was once arrested on a drug charge, but eventually became a born-again Christian _ an event he credits with helping turn his life around.
Stockman later was active in the Young Conservatives of Texas before running unsuccessfully for Congress in 1990. He made it to a runoff against Maury Meyers that year, but lost in a second round of balloting. Four years later, Stockman easily bested two Republican challengers in the primary, before squaring off against long-serving Democratic U.S. Rep. Jack Brooks in the 1994 general election. An anti-Democrat wave during President Bill Clinton's first term help sweep Stockman to an unlikely victory, but he only lasted one-term in Congress.
Stockman and his wife, Patti, reside in Friendswood.
Profile
Steve Stockman, a former U.S. representative, waged a low-profile, almost stealth primary campaign against financial adviser Stephen Takach for Texas' new 36th Congressional District seat and managed to prevail in a runoff election despite being sizably outspent.
Takach poured more than $450,000 of his own money into his campaign, compared to Stockman's $170,000.
The congressional district is one of four added to the state's total because of population gains measured in the 2010 census. Stockman's Friendswood home falls outside the district, a fact not lost on his opponents. Republican leaders also complained that they had not seen him except at the June 2012 state convention in Fort Worth.
During the May 2012 primary, Stockman and Takach emerged from a field of a dozen Republicans. With his runoff victory, Stockman faces Democrat Max Martin, a political neophyte who sells educational software, in the November general election.
The heavily Republican district includes an eastern portion of Harris County, home to Houston, as well as central and northern Chambers County, and Liberty, Polk, Hardin, Tyler, Jasper, Newton and Orange counties. Four years ago, 69 percent of the voters in the new district backed GOP presidential candidate John McCain.
Stockman is best known for his stunning upset in 1994 of Democrat Jack Brooks, who was the reigning dean of the House and a Lyndon Johnson protege seeking a 22nd term. Brooks had been a longtime friend of the National Rifle Association but broke with the group to support an assault weapons ban in 1994 that passed but expired a decade later. The NRA became vocal supporters of Stockman, and helped him solidify a victory and a reputation as Texas' "Comeback Kid."
But he lasted just one term. Targeted by Democrats, Stockman did himself no favors by becoming known for incendiary language, like accusing the government of "executing" members of the Branch Davidian cult after the 1993 siege outside Waco. He also claimed to have received a fax from a militia supporter that seemingly foretold the Oklahoma City bombing. The fax was sent after the bombing.
In 1998, Stockman ran for a seat on the Texas Railroad Commission and lost in the primary. He made a bid for Congress in 2006 as an independent but didn't qualify for the Texas ballot. Despite his single term that ended 16 years ago, his 2012 campaign signs labeled him a congressman and urged voters to re-elect him.
Source: Associated Press