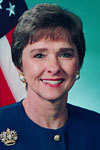 Birthdate: Aug. 1, 1941
Birth Place: Tiffin, OH, United States
Residence: Charlotte, NC
Religion: Methodist
Gender: Female

Candidacy
Education
Sue Myrick was born in Tiffin, Ohio, and currently lives in Charlotte, N.C.
Myrick is the former president of a Charlotte advertising agency. She served on the Charlotte City Council from 1983 to 1985, then returned in 1987 when she was elected mayor. She was re-elected mayor in 1989.
In 1994, she won a crowded Republican primary for North Carolina's 9th Congressional District, which is one of the safest GOP districts in the state.
Myrick announced in late 1999 that she had been diagnosed with breast cancer, and she underwent treatment while campaigning for her fourth term. She had reconstructive surgery on her jaw in 2005 for a degenerative joint disease caused by osteoarthritis and disc ruptures.
Myrick has two children and three stepchildren with her husband, Ed.
Profile
Sue Myrick announced in February 2012 that she would not seek re-election.
She became a leading Republican voice against the 2010 health care reform bill, warning that government intervention in health care could mean life-threatening delays in treatment. Myrick, who voted against the legislation, said she was grateful for a health care system that quickly detected her breast cancer.
"This bill will simply make sure that the government has more control over the American people and their health care," she said.
Myrick, who serves on the House Permanent Select Intelligence Committee, stepped up her rhetoric in 2010 about Islamic extremism in the United States, warning that American citizens could be radicalized. Muslim groups have charged that she is spreading fear about their religion _ charges she rejected.
"I want people to be aware of the fact that it does exist and it is a threat to our national security," Myrick said regarding the potential for radicalization.
Myrick was elected to the U.S. House in the Republican sweep of 1994. She is closely aligned with former House Speaker Newt Gingrich and supports reductions and eventual elimination of the capital gains and inheritance taxes.
She joined with fellow Republicans in 2009 to oppose the passage of the approximately $800 billion economic stimulus package. She also voted against the financial industry bailouts of 2008 and 2009.
Myrick has won points with social conservatives for her get-tough platform on immigration. She has pursued federal training for sheriff's deputies in Charlotte that allows them to match the names of inmates entering North Carolina's largest jail against a federal database of illegal immigrants.
Myrick said the hope is that fewer illegal immigrants with criminal histories will be set free after promising to appear in court. Instead, they'll be held for deportation.
The legislation came in response to a case in her district where an illegal immigrant was charged with second-degree murder in an apparent drunken driving accident. The suspect remained in the United States despite several prior convictions for driving while intoxicated.
When a Government Accountability Office report slammed the program, saying the immigration net was targeting minor offenders instead of serious criminals, Myrick called the report biased. She warned that President Barack Obama's administration was "giving up on the fight on illegal immigration."
Myrick in the summer of 2003 lashed out at the administration of President George W. Bush on trade issues after the shutdown of North Carolina-based textile giant Pillowtex, which was the largest mass layoff in state history.
"If he doesn't care about us, we won't care about him come election time," Myrick said of Bush, arguing that he had not done enough to protect U.S. jobs being lost to foreign producers.
She was similarly blunt-spoken in 2006 when opposing federal approval for a Middle East company to take over operations at six East Coast seaports. In a single-sentence letter to Bush, she wrote: "In regards to selling American ports to the United Arab Emirates, not just NO but HELL NO!"
Source: Associated Press