Susan Carol Alpert Davis
House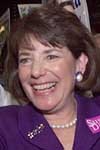 Birthdate: April 13, 1944
Birth Place: Cambridge, MA, United States
Residence: San Diego, CA
Religion: Judaism
First Elected: 2000
Gender: Female

Candidacy
Party: Democratic
State: California
Office: House
District: District 53

Education
Undergraduate: University of California - Berkeley
Degree: BA

Graduate: University of North Carolina
Degree: MSW

Susan Davis was born in Cambridge, Mass., and grew up in Richmond, Calif. She now lives in San Diego. She earned a bachelor's in sociology at the University of California-Berkeley in 1965 and a master's in social work from the University of North Carolina in 1968.
She was on the San Diego City School Board from 1983 to 1992, serving during her tenure as both president and vice president of the board.
Davis was the executive director from 1990 to 1994 of the Aaron Price Fellows Program. She was elected to the California Assembly in 1994 and served three terms.
She won election to the U.S. House in 2000.
Davis and her husband, Steve, an Air Force physician, lived in Japan until 1972. They have two children.
Profile
Susan Davis' time in Congress has focused on military, education, environmental and health care issues _ not surprising, given the nature of her constituents. She has also argued for tighter oversight of Wall Street.
She represents her San Diego district's military bases, along with the University of California-San Diego, the University of San Diego and San Diego State University. She is chairwoman of the House Armed Services subcommittee on military personnel.
In May 2012, with other House Democrats, Davis announced new legislation that seeks to ensure pregnant women are not forced out of jobs unnecessarily or denied reasonable job modifications that would allow them to continue working. The legislation had reached 100 co-sponsors by mid-July 2012.
In September 2011, Davis was one of the first Democratic leaders to say she had been victimized by a longtime party campaign accountant, who was charged with fraud. She told supporters that Kinde Durkee robbed her campaign of about $250,000.
Davis supported President Barack Obama's campaign to repeal the military's "don't ask, don't tell" policy banning openly gay service members.
She opened a contentious hearing on the policy in July 2008, presenting the hearing as a "conversation" about the effect the policy has on morale and recruitment within the military. It was the first hearing on the subject since the policy was enacted in 1993.
Davis in June 2010 accompanied first lady Michelle Obama to Camp Pendleton, where the first lady gave a speech to thousands of Marines outlining her support for troops and their families.
Davis voted for the February 2009 economic stimulus package and supported legislation that sought to help consumers protect their credit score.
She has worked to require manufacturers of diet supplements to register with the Food and Drug Administration, and she proposed a bill in 2005 that aimed to give consumers more rights in dealing with the diet supplement industry. She sought legislation in 2004 that would remove ephedra from store shelves.
Davis supports low-cost prescription drugs for seniors and low-income households. She authored a bill that would guarantee patients' rights to seek second opinions that would be covered by insurance.
Davis was one of three California congresswomen in 2005 who tried unsuccessfully to allow overseas troops and their relatives to get abortions at military hospitals and clinics.
She introduced legislation that would require the Department of Veterans Affairs to reimburse veterans whose guardians misuse their benefits.
Davis sponsored several bills in 2004 that would make pay increases for the armed services comparable to those offered in the private sector. She also wanted to increase the maximum amount of a home loan available to a veteran.
She has opposed efforts to weaken the Endangered Species Act and supported efforts to raise the minimum wage. She worked to prohibit members of Congress from receiving free trips and other gifts from lobbyists.
Source: Associated Press