Ted Poe
House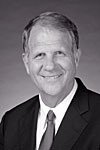 Birthdate: Sept. 9, 1948
Birth Place: Temple, TX, United States
Residence: Humble, TX
Religion: Church of Christ
First Elected: 2004
Gender: Male

Candidacy
Party: Republican
State: Texas
Office: House
District: District 2

Education
Undergraduate: Abilene Christian University
Degree: BA

Graduate: University of Houston
Degree: JD

Ted Poe was born in Temple, Texas, and currently resides in Humble. He earned a bachelor's degree in political science at Abilene Christian University and a law degree at the University of Houston.
Poe was hired by the Harris County District Attorney's office fresh out of law school. As a prosecutor, Poe did not lose a case in eight years. He was appointed a state district judge in 1981 and won re-election six times.
During his judicial tenure, Poe became known for handing down unusual sentences, such as requiring a probationer to shovel out the Houston police stables or forcing convicts to carry signs outside the courthouse proclaiming their crimes.
He was first elected to the U.S. House in 2004.
He and his wife, Carol, have four children.
Profile
Ted Poe won election to the U.S. House in 2004 when he defeated four-term Democratic Rep. Nick Lampson in a Southeast Texas district made more conservative by the GOP-led state Legislature's 2003 redistricting effort.
Poe is a conservative whose website touts that he has spoken on the House floor more often than any other member of Congress, often to support "conservative topics important to Texans."
He has spoken in front of tea party activists and his website prominently displays a picture of him posing in front of a banner advertising the "Lone Star Tea Party."
Poe renewed in 2010 a call for the country's borders to be immediately secured. He has said that border security should be a primary consideration in the immigration debate and has supported a bill that would make illegal immigration a felony.
As a member of the Judiciary Committee, Poe took part in the 2012 inquiry into Operation Fast and Furious, a Justice Department sting involving so-called gun walking where agents forego immediate arrests of suspected straw purchasers of guns and instead try to track the guns to higher-ups in gun-smuggling rings _ a practice normally barred under Justice Department policy.
The operation went bad when agents lost track of hundreds of guns that then flowed south to Mexico where many were recovered at crime scenes _ including one involving the killing of a U.S. border agent.
"How many people in Mexico have been killed as a result of the U.S." engaging in the gun-walking tactic? Poe asked Attorney General Eric Holder at a hearing on the matter. Holder replied that he didn't know.
Poe voted against the $700 billion Wall Street bailout package in 2008, saying the bill was loaded with "squeaky pork" and included a $49 billion tax increase. Poe said the bill was "socializing the losses of Wall Street."
Poe is a proponent of limited government. He supports either a consumption tax or a flat tax system.
He believes marriage should be defined as a union between a man and a woman and he supports, if necessary, a Constitutional amendment to clarify the distinction.
Poe opposes government funding for abortion clinics, supports voluntary prayer in school, is a member of the National Rifle Association and believes government should protect crime victims while upholding the rights of offenders.
He gained national attention during his 22-year judicial career for his decision to allow a Public Broadcasting Service documentary crew to film jury deliberations in a capital murder case.
Texas' highest criminal court, however, barred the videotaping by the PBS series "Frontline," saying the presence of a camera in the deliberation room would violate rules that jury deliberations remain private and confidential.
Source: Associated Press