Terrycina 'Terri' Andrea Sewell
Terrycina 'Terri' Andrea Sewell
House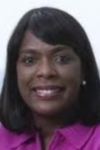 Birthdate: Jan. 1, 1965
Birth Place: Huntsville, AL, United States
Residence: Birmingham, AL
Religion: African Methodist Episcopal
First Elected: 2010
Gender: Female

Candidacy
Party: Democratic
State: Alabama
Office: House
District: District 7

Education
Undergraduate: Princeton University
Degree: BS

Graduate: Oxford University
Degree: MS

Graduate: Harvard University
Degree: JD

Terri Sewell grew up in Selma, Ala., and now lives in Birmingham. She earned a bachelor's from Princeton University, a master's from Oxford University and a law degree from Harvard University.
Sewell served as a clerk for U.S. District Judge U.W. Clemon, Alabama's first black federal judge, who retired in early 2009. After being a clerk for Clemon, she went to Wall Street in 1994, where she practiced securities law with Davis, Polk and Wardwell. She moved to Birmingham in 2004, where she became a partner in the Maynard, Cooper and Gayle law firm. She specialized in public finance law, and her clients included historically black colleges, the City of Selma, and the Lowndes County Board of Education.
Sewell, who is single, made her first race for public office in 2010, when she was elected to replace Artur Davis in Alabama's heavily Democratic 7th Congressional District.
She is a member of Brown Chapel AME Church in Selma and currently worships at Sixth Avenue Baptist Church in Birmingham.
Profile
Terri Sewell comes from a family with a history of breaking barriers.
Her mother, Nancy Gardner Sewell, was the first black woman to serve on the Selma City Council. The younger Sewell was the first black valedictorian at Selma High School and the first black woman to be a partner in the Birmingham law firm Maynard, Cooper & Gale. Then in 2010, she became the first black woman elected to Congress from Alabama. She received 72 percent of the vote against Republican Don Chamberlain. She replaced Democrat Artur Davis, who gave up the seat for an unsuccessful race for governor. She became the lone Democrat and the only black member of Alabama's congressional delegation.
In 2012, Sewell had no opposition in the Democratic primary. For the general election, she is in a rematch with Chamberlain. Through the end of June, she had raised $905,636 to Chamberlain's $11,359.
The 7th District, which stretches between the civil rights landmarks of Birmingham and Selma, has been predominantly black and heavily Democratic since the Legislature redesigned it for the 1992 election. Even before the redesign, it was heavily Democratic, with the party representing the district since the 1966 election.
In Sewell's 2010 campaign, she spoke in favor of the 2010 health care reform bill backed by President Barack Obama. In her first term, she has continued supporting Obama. She endorsed his Afghanistan policy, supported extending federal unemployment benefits, and voted against GOP efforts to eliminate a preventive health care fund in the health care bill.
In April 2012, Obama invited her to join him at the White House signing ceremony for the Jumpstart Our Business Startups (JOBS) Act. The act provides small businesses with greater access to market their products and services by lifting Securities and Exchange Commission restrictions that will make it easier to solicit investors.
In June 2012, Sewell joined Reps. John Lewis and Nancy Pelosi as about 100 representatives walking out of the House to protest Republican contempt votes against Attorney General Eric Holder. "Today's contempt votes were yet another example of partisan politics and an attempt by House Republicans to discredit the Obama administration. I could not, in good conscience, participate in such deception and disservice to the American people," she said.
Sewell, a college friend of first lady Michelle Obama, joined her when she made a visit to Birmingham in July 2012 to raise campaign funds and assess the recovery from tornadoes that killed 253 Alabamians in April 2011.
Sewell has voted with the Democratic Party 91 percent of the time, but Alabama's lone Democrat in Congress has also developed a friendship with Alabama's only other female member of Congress, Republican Martha Roby of Montgomery.
They teamed up to pass a resolution directing the House historian to record the oral histories of present and former U.S. representatives who participated in the Selma-to-Montgomery voting rights march in 1965. They also serve together on the Agriculture Committee, where Sewell said they have worked together to benefit the rural areas of their districts.
"We may come from different perspectives, but I don't doubt her belief that she's doing the best that she can for her district," Sewell said.
Source: Associated Press