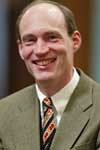 Birthdate: Aug. 22, 1965
Birth Place: Detroit, MI, United States
Residence: Livonia, MI
Religion: Catholic
Gender: Male

Candidacy
Education
Thaddeus McCotter was born in Detroit and now lives in Livonia, Mich. He attended the University of Detroit where he earned a bachelor's in 1987 and a law degree in 1990.
McCotter served on the Wayne County Commission and then won election in 1998 to the state Senate, where he served until his election to Congress in 2002. He announced on July 6, 2012, that he was resigning his congressional seat.
McCotter was selected by his colleagues in 2006 to serve as chairman of the Republican House Policy Committee, a leadership position once held by Vice President Dick Cheney.
McCotter and his wife, Rita, have three children.
Profile
Thaddeus McCotter's political star, once solidly on the rise, has been completely extinguished.
He announced his resignation from Congress on July 6, 2012, capping a bizarre political downfall that started after his campaign failed to submit enough valid petition signatures to get him on the ballot for re-election in 2012.
Having put his congressional service behind him, McCotter is focused on cooperating with an investigation by the state attorney general's office about the signatures, many of which appeared to be copied from earlier years' petitions.
In 2011, McCotter launched a long-shot run for the presidency in which he gained little traction and quickly dropped out.
He voted in 2010 to extend unemployment benefits to the long-term jobless, but later voted against a $26 billion dollar spending bill that Democrats said would save 300,000 teachers, police and others from layoffs. He voted in June 2010 against a financial regulation reform bill, and he supported a $59 billion war-funding bill in July 2010.
McCotter was an outspoken critic of the 2009 approximately $800 billion economic stimulus bill, calling it "a $1 trillion fiscal obscenity at taxpayers' expense."
He was sharply critical of the 2008 $700 billion bailout of the financial sector, arguing that Congress incorrectly rushed in with funding that would hurt the country in the long run. He said then-Treasury Secretary Henry Paulson should have resigned for being inflexible in presenting narrow options to Congress on how to help the country avoid a prolonged recession.
McCotter was equally passionate on energy issues, leading a lengthy protest on the House floor against then-Speaker Nancy Pelosi's decision not to take up significant energy legislation before the summer 2008 recess.
McCotter's conservative-leaning district has strong ties to the auto industry and manufacturing, so he focused on trade and economic issues during his time in Congress.
He advocated for federal aid to domestic automakers in December 2008, calling on President George W. Bush to release federal bailout funds. When General Motors and Chrysler in 2009 asked President Barack Obama's administration for more government loan cash to stay afloat, McCotter said of the situation: "An entire state is hanging in the balance."
McCotter pushed to secure the elimination of steel tariffs and voted to extend manufacturing tax breaks.
He also introduced a bill to create a Cabinet-level federal manufacturing czar, which led to the creation in 2004 of a new post: assistant secretary of commerce for manufacturing.
McCotter assumed a higher-profile role as chairman of the Republican House Policy Committee, the fourth-highest position in the party's House leadership. He was elected to that position following the 2006 midterm elections that saw the party lose control of the House.
McCotter was a reliable Republican vote. He was one of only two Michigan lawmakers who signed onto a constitutional amendment to ban gay marriage, and he supported a bill to ban the procedure opponents call partial-birth abortion. He also supported Bush's $87 billion reconstruction package for Iraq and Afghanistan.
McCotter played lead guitar in a bipartisan, all-congressional band called the Second Amendments, but the group went on hiatus after the 2008 election, when several members of the band lost their seats.
Source: Associated Press