Theodore 'Todd' E. Rokita
Theodore 'Todd' E. Rokita
House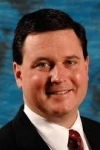 Birthdate: Feb. 9, 1970
Birth Place: Chicago, IL, United States
Residence: Indianapolis, IN
Religion: Catholic
First Elected: 2010
Gender: Male

Candidacy
Party: Republican
State: Indiana
Office: House
District: District 4

Education
Undergraduate: Wabash College
Degree: BA

Graduate: Indiana University - Indianapolis
Degree: JD

Todd Rokita was born in Chicago and raised in Munster, Ind. He now lives in Indianapolis. He earned a bachelor's from Wabash College in 1992 and a law degree from Indiana University-Indianapolis in 1995.
Rokita was an attorney before being elected Indiana's secretary of state in 2002. For a year he was the youngest secretary of state in the nation. He was re-elected in 2006.
Rokita was elected to the U.S. House in 2010.
He has a pilot's license and has volunteered his time by flying people in need of non-emergency medical care to hospitals and clinics throughout the Midwest.
He and his wife, Kathy, have two sons.
Profile
Todd Rokita quickly gained attention shortly after his 2010 election to the U.S. House when he and two other congressmen-elect were named to the Republican House Steering Committee, which nominates and votes on recommendations for assignments to all standing House committees.
Rokita says the key to growing the economy and creating jobs is to create a climate in which businesses are comfortable taking risks. He says cutting taxes will help grow the economy, including reducing the corporate income tax rate.
He opposes the 2010 health care reform bill, saying it costs too much and will drain money from Medicare. He favors focusing on ways to increase health care competition, expanding access to insurance and reducing burdensome legal and regulatory costs.
In February 2011, Rokita was among Republican members of Congress who questioned Federal Reserve Chairman Ben Bernanke over whether the Fed's policies are raising the risk of higher inflation. Rokita appeared skeptical of the Fed's ability to fend off inflation before it gets out of hand, asking Bernanke when in the Fed's history did it "get it right?"
Rokita describes himself as a "committed pro-life conservative, an ardent supporter of the Second Amendment and a fiscal hawk with a proven record of accomplishment as secretary of state."
Following his 2010 primary win, Rokita said voters were comfortable with him after his two terms as secretary of state, during which he visited all of Indiana's 92 counties every year.
Rokita led an effort as secretary of state to overhaul Indiana's securities laws and oversaw a statewide voter registration system to link county voter lists and update them in real time.
He is a strong supporter of Indiana's controversial voter ID law, which requires people to show a state or federally issued photo ID to vote in person. The state appeals court threw out the law in 2009, but that ruling was later vacated by a federal lawsuit and the ID requirement remains in place. The Indiana Supreme Court will decide whether to uphold the appeals court ruling or take up the matter further.
Rokita made headlines as secretary of state when he pushed for changes in the way Indiana draws its congressional and state legislative districts. He wanted to prohibit lawmakers from considering political data when redrawing district maps.
Rokita's plan drew praise from fellow Republican Gov. Mitch Daniels. But some lawmakers said it was not Rokita's job to interfere with a process that belongs in the hands of the General Assembly, and Rokita's plan didn't gain traction.
Source: Associated Press