Thomas H. Massie
House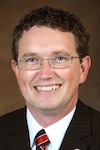 Birthdate: Jan. 13, 1971
Birth Place: Huntington, WV, United States
Residence: Garrison, KY
Religion: Christian
Gender: Male

Candidacy
Party: Republican
State: Kentucky
Office: House
District: District 4

Education
Undergraduate: Massachusetts Institute of Technology
Degree: BS

Graduate: Massachusetts Institute of Technology
Degree: MS

Thomas Massie was born in Huntington, W.Va., and lives in Garrison, Ky. He attended the Massachusetts Institute of Technology, where he earned a bachelor's in electrical engineering in 1993 and a master's in mechanical engineering in 1996.
Massie is founder of computer technology company SensAble Technologies, Inc.
He and his wife, Rhonda, have four children.
Profile
Thomas Massie is vying for the 4th Congressional District seat left open after Republican Geoff Davis announced his retirement in 2012.
Massie breezed through the May 2012 primary with the political and financial clout of the tea party behind him, beating a field of seven Republicans, including two well-established candidates, state Rep. Alecia Webb-Edgington and Boone County Judge-Executive Gary Moore.
Massie was helped immensely by the Liberty For All Political Action Committee, which is financed largely by Texas millionaire college student John Ramsey and spent more than $500,000 on TV ads for Massie.
Massie credited the PAC for helping him to win the Republican nomination, which makes him the overwhelming favorite in the November 2012 general election. He faces Democratic nominee Bill Adkins in a district with a long tradition of electing Republicans.
In 2010, Massie was elected to his first political office, Lewis County judge-executive. He stepped down in June 2012, saying he wanted to devote more time to the 4th District race.
As judge-executive, he focused on cutting spending, and claims to have eliminated enough spending to pay his judge-executive salary for three years.
He has been endorsed, among others, by Kentucky Republican U.S. Sen. Rand Paul, Texas Republican U.S. Rep. Ron Paul, Utah Republican U.S. Sen. Mike Lee, the Kentucky Right to Life PAC, Gun Owners of America, Kentuckians for the Right to Bear Arms, the National Association for Gun Rights, FreedomWorks PAC, and Take Back Kentucky.
Source: Associated Press