Thomas Timothy 'Tim' Holden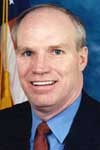 Birthdate: March 5, 1957
Birth Place: St. Clair, PA, United States
Residence: St. Clair, PA
Religion: Catholic
Gender: Male

Candidacy
Education
Tim Holden was born in St. Clair, Pa. His father was a Schuylkill County commissioner for four terms, and his grandfather was a founder of the Miners Benevolent Association, the precursor to the United Mine Workers. He received a bachelor's degree from Bloomsburg University in 1980.
He was a probation officer for Schuylkill County before becoming sheriff in 1985, serving in that post until 1992.
Holden was a licensed insurance broker and real estate agent in the family business.
He was first elected to the U.S. House in 1992.
Holden and his wife, Gwen, reside in St. Clair.
Profile
Tim Holden lost his bid for an 11th term in Congress when he was defeated in the April 2012 Democratic primary by Matt Cartwright, a Moosic lawyer. Cartwright made Holden's vote against the 2010 health care reform bill a major issue in the newly redrawn 17th Congressional District.
A moderate Democrat, Holden boasts strong support for gun owners' rights and an interest in rural issues.
Holden has a reputation for obtaining federal money for his district and winning votes with a hands-on, door-to-door campaign style.
He is a member of the Blue Dog Coalition of conservative Democrats and in 2008 voted against the $700 billion financial industry bailout, known as the Troubled Assets Relief Program.
Holden supported the 2009 approximately $800 billion economic stimulus package, appearing with Vice President Joe Biden in an effort to raise public support for the legislation as the House and Senate were negotiating a final version.
"For every $1 billion you spend on transportation infrastructure, you create thousands of jobs," Holden told reporters.
In June 2012, Holden voted for legislation preserving jobs on transportation projects from coast to coast and avoiding interest rate increases on new loans to millions of college students.
His profile within the 17th District had been good enough to help him beat some close Republican challenges _ even when the district was redrawn in 2002.
Holden has been active in getting the government to spend more money to clean up residue from the anthracite coal that fueled his district's economy for years.
In 2008, The Associated Press listed Holden among congressional members who had pushed for federal money for private companies that had donated to their election campaigns. According to the article, Holden earmarked $3.2 million to a Reading-based technology company whose founding family and employees had donated more than $70,000 to his campaigns since 2002.
Source: Associated Press