Thomas 'Tom' Miller McClintock, II
Thomas 'Tom' Miller McClintock, II
House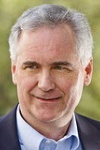 Birthdate: July 10, 1956
Birth Place: White Plains, NY, United States
Residence: Elk Grove, CA
Religion: Baptist
First Elected: 2008
Gender: Male

Candidacy
Party: Republican
State: California
Office: House
District: District 4

Education
Undergraduate: University of California - Los Angeles
Degree: BA

Tom McClintock was born in White Plains, N.Y., moved to California in 1965, and now lives in Elk Grove. He earned a bachelor's degree from the University of California-Los Angeles.
McClintock was chief of staff for then-state Sen. Ed Davis from 1980 to 1982. He was elected in 1982 at age 26 to the California Assembly, serving until 1992. He served again in the Assembly from 1996 to 2000.
He was elected to the state Senate in 2000 and to the U.S. House in 2008. He spent two years between elected offices as director of the Center for the California Taxpayer and a year as director of economic and regulatory affairs for the Claremont Institute's Golden State Center for Policy Studies.
McClintock and his wife, Lori, have two children.
Profile
Tom McClintock, representing California's 4th District, is a hero to ideological conservatives in Democratic-leaning California.
McClintock got involved with Republican politics as a teenager, and he has used his time in political office to broadcast his opposition to taxes and spending increases, his belief in constitutional principles and his admiration for former President Ronald Reagan.
In 2012 he attempted to slash a federal program that subsidizes flights to 120 communities in 35 states in the continental U.S. and Puerto Rico and 43 towns in Alaska. In 2011, he unsuccessfully lobbied to zap $247 million in Department of Energy funding for solar incentives.
He protested on the House floor in 2010 against Mexican President Felipe Calderon's criticism of Arizona's new immigration law in his speech to Congress. If Calderon wants to meddle in America's affairs he should first become a U.S. citizen, McClintock declared, also critiquing Mexico's own immigration policies.
He opposed in 2010 the so-called Cash for Caulkers energy-saving stimulus program, modeled on the popular Cash for Clunkers vehicle trade-in incentive. McClintock said in a speech on the House floor that such programs merely reward consumers for purchases they would have made anyway. The speech echoed his vocal opposition to the approximately $800 billion economic stimulus package.
McClintock joined other Republican California lawmakers in January 2010 in circulating an ultimately unsuccessful ballot initiative that would have suspended the state's law to cut greenhouse gas emissions.
He repeatedly clashed with former-Gov. Arnold Schwarzenegger, and urged President Barack Obama's administration to block California's effort to regulate tailpipe emissions from cars. McClintock finished third in the 2003 gubernatorial recall election that elevated Schwarzenegger to the governorship.
McClintock traces his conservative views to the day he came home from school to find his mother crying because taxes had wiped out the family's savings. He began volunteering for Republican campaigns at age 16, became a Republican county chairman when he was 22 and won his first election when he was 26.
Source: Associated Press