Thomas 'Tom' Paul Latham
House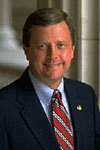 Birthdate: July 14, 1948
Birth Place: Hampton, IA, United States
Residence: Alexander, IA
Religion: Lutheran
First Elected: 1994
Gender: Male

Candidacy
Party: Republican
State: Iowa
Office: House
District: District 3

Education
Undergraduate: Wartburg
Degree: Attended

Undergraduate: Iowa State University
Degree: Attended

Tom Latham was born in Hampton, Iowa, and resides in Alexander. He attended Wartburg College in 1967 and Iowa State University in 1970.
Latham worked in banking and insurance in Colorado from 1970 to 1974, before returning to Iowa for an insurance job.
He launched the Latham Seed Company in 1976 in Alexander, where he was a vice president and co-owner.
Latham was elected to the U.S. House in 1994.
He and his wife, Kathy, have three children.
Profile
Since being elected to represent Iowa's 4th District in the U.S. House in 1994, Republican Tom Latham has established a solidly conservative message that resonated with his largely rural and suburban district and enabled him to repeatedly cruise to election victories.
The 2012 election is likely to be Latham's toughest challenge, as redistricting prompted him to move into the redrawn 3rd Congressional District to avoid running against Republican Rep. Steve King. Instead, Latham will face incumbent Democrat Rep. Leonard Boswell.
"I just didn't see any reason to see two Republicans go against each other and basically use up resources there," Latham said in a 2011 interview, noting that he and King have similar views.
The race against Boswell is expected to be expensive, as would be expected of a contest between two incumbents. But Latham's re-election bid is especially important to Republican leaders because he is a close friend of House Speaker John Boehner, who came to the Des Moines area in spring 2012 to hold fundraising events for Latham.
Although he holds deeply conservative views, Latham has cultivated an image of a politician who typically eschews making attention-grabbing statements or overly vilifying his opponents.
In a 2011 interview he displayed this tendency when asked about Boswell, saying, "Leonard Boswell is a friend of mine, and I went to him and said 'Leonard, I'd hoped we'd never have this conversation but I'm going to be moving to the district.' He's been a long-time public servant, and I respect that."
Much of Latham's emphasis has been on agriculture.
He serves on the House Appropriations subcommittee on agriculture, and in the past he has directed millions of dollars to fund a livestock health research facility in Ames. Latham also supported lifting U.S. embargoes on sending food to countries under U.S. sanctions, saying the embargoes punish farmers.
In March 2012, Latham introduced bipartisan legislation, the Preserving America's Family Farms Act, which opposes an increase in federal regulatory involvement of family farms involving youth working.
Latham has continued his strong support for the ethanol industry, repeatedly calling for higher contents of ethanol in gasoline, a change now supported by the federal Environmental Protection Agency.
Latham also sits on Appropriations subcommittees dealing with homeland security as well as transportation, housing and urban development. He has used this position to funnel money back to Iowa for law enforcement, and he has worked hard to override a plan by the Air Force to retire all F-16 fighter jets at the Des Moines-based Air National Guard unit, a money-saving proposal that would mean the loss of 81 full-time jobs in Des Moines.
Latham had been active in state Republican politics before his election to Congress. He was also active on commodity and trade groups, and was a delegate and a delegation whip at the 1992 Republican National Convention in Houston.
He is a former secretary of the state Republican Party, a member of the Iowa GOP's State Central Committee and he served on former U.S. Rep. Fred Grandy's agriculture advisory committee.
When Grandy vacated his seat to run unsuccessfully for governor, Latham jumped into the 1994 race to replace him. Latham campaigned that year as a mainstream conservative and a newcomer to politics who brought business experience to the position. He won the election by a nearly 2-1 ratio and has since compiled a solidly conservative House voting record.
Redistricting in 2001 moved Latham into Iowa's 4th District, where Democrats had a slight registration edge over Republicans. He has regularly achieved easy election victories despite the Democratic advantage.
Source: Associated Press