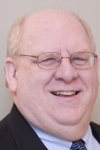 Birthdate: Oct. 3, 1953
Birth Place: Bloomington, IL, United States
Residence: Arlington Heights, IL
Religion: Nondenominational Christian
Gender: Male

Education
Tim Wolfe was born in Bloomington, Ill., and now lives in Arlington Heights. He earned a bachelor's in business administration from Illinois Wesleyan University in 1975 and a bachelor's in accounting from Illinois State University in 1978. In 2003, he earned a master's in taxation from Northern Illinois University.
Wolfe is a certified public accountant and a certified financial planner. He worked in public accounting for more than 10 years and was a senior audit manager before starting his own tax practice. For the past 20 years he has been a self-employed tax planner, preparer and financial services professional in Mount Prospect.
Wolfe and his wife, Kyle, have two daughters.
Profile
Tim Wolfe is facing incumbent U.S. Rep. Jan Schakowsky in the November 2012 general election. Schakowsky has held the seat since 1998, but Wolfe is hoping that recent redistricting that added more conservative areas to the 9th District may favor him as a candidate.
Wolfe presents himself as a political outsider. On his campaign website, he calls Schakowsky an insider and "extreme liberal who believes in growing government, equality of outcomes and redistribution of wealth."
Wolfe says his top campaign issues are jobs, the economy and rising taxes. He says on his website that government is "often a roadblock to job creation," and that businesses need a simpler tax code with lower tax rates and fewer regulations.
Wolfe told Chicago radio station WIND that he supports eliminating the Department of Energy, because it is not accomplishing the goal to make the nation energy independent. He also advocates doing away with the Department of Education, saying that the federal government needs some involvement in education but that the department is too involved with social issues and not education policy.
Wolfe opposes abortion and supports the Department of Justice enforcing marriage as strictly heterosexual. He says the 2010 health care reform bill is unconstitutional and the government shouldn't tell people what to buy. He is pro-Israel and supports taking U.S. troops out of Afghanistan.