Timothy J. Ryan
House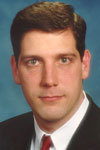 Birthdate: July 16, 1973
Birth Place: Niles, OH, United States
Residence: Niles, OH
Religion: Roman Catholic
First Elected: 2002
Gender: Male

Candidacy
Party: Democratic
State: Ohio
Office: House
District: District 13

Education
Undergraduate: Bowling Green State University
Degree: BS

Graduate: Franklin Pierce Law Center
Degree: JD

Tim Ryan was born in Niles, Ohio, where he now resides. He played quarterback at John F. Kennedy High School in Warren.
Ryan earned a bachelor's in political science from Bowling Green State University and a law degree from the Franklin Pierce Law Center.
He worked as a congressional aide for Rep. James A. Traficant from 1995 to 1997. Traficant was ousted from Congress after being convicted of racketeering and bribery in 2002 and sentenced to eight years in prison.
Ryan was elected to the Ohio Senate in 2001 and was elected to the U.S. House in 2002, representing the 17th District. The 17th district became the new 13th Congressional District in 2012 after re-districting.
He is divorced.
Profile
Tim Ryan said the economy, jobs and other issues affecting working families remained his major concerns during his 2012 campaign for re-election in Ohio's new 13th Congressional District.
The reconfigured northeast Ohio district consists mostly of the old 17th District, which Ryan has represented since 2003. Like the 17th, the new 13th is one of the most Democratic districts in the state.
Ryan, whose district was hard hit by manufacturing job losses, continued in 2012 as co-chairman of the Congressional Manufacturing Caucus that he co-founded in 2003 to help preserve manufacturing jobs. The congressman said he also worked with local officials and community leaders to develop projects aimed at improving economic competitiveness and attracting high-quality, high-paying jobs.
In June 2012, Ryan kept seeking the extradition of a Brazilian-born Ohio woman with a proposed amendment to the 2013 Homeland Security Appropriations Bill. The amendment would halt funding for processing Brazilian visas to Brazilian citizens until authorities in that country agree to extradite Clauda Hoerig. Prosecutors allege she fatally shot her husband in Newton Falls, Ohio, in 2007.
In May 2012, Ryan opposed the Republican version of the Violence Against Women Act approved by the House, saying it rolled back existing protections in the law.
In April 2012, Ryan called for responsible natural gas development in a letter to President Barack Obama after Obama announced the creation of an interagency working group on the issue. Ryan urged the administration to include the U.S. Geological Survey and experts in seismology in that group. He also noted concern about a possible link between waste and brine water injection wells and earthquakes that have occurred close to those wells in his district
Ryan's use of a meditation technique called "mindfulness" led him to author a book released in March 2012 called "A Mindful Nation: How a Simple Practice Can Reduce Stress, Improve Performance and Recapture the American Spirit."
The mental technique focuses on breathing, attention to areas of the body and periods of silence, with concentration on the present. Ryan's book promotes mindfulness as a way to help tone down political divisions in Washington.
He said he would like to see fellow politicians embrace it and abandon political gridlock.
As a member of the House Budget Committee, Ryan stressed that sacrifices to help reduce the nation's debt must be shared and not directed to those least able to afford them. He also urged protection of Medicare and supported efforts to make college more affordable, revitalize cities and improve the health of families and children.
When Ryan was sworn in as a member of Congress in 2003 at the age of 29, he became the youngest serving Democratic congressman at that time.
Source: Associated Press