Timothy 'Tim' Alan Huelskamp
Timothy 'Tim' Alan Huelskamp
House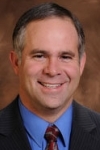 Birthdate: Nov. 11, 1968
Birth Place: Fowler, KS, United States
Residence: Fowler, KS
Religion: Catholic
First Elected: 2010
Gender: Male

Candidacy
Party: Republican
State: Kansas
Office: House
District: District 1

Education
Undergraduate: College of Santa Fe
Degree: BA

Graduate: American University
Degree: PhD

Tim Huelskamp was born and raised in Fowler, Kan., and his family currently has a farming operation there. He received a bachelor's degree from the College of Santa Fe and a doctorate in political science from American University.
Huelskamp worked in New Mexico as a state budget and legislative analyst.
Huelskamp was the Kansas Senate's youngest member when first elected at age 27 in 1996. He was re-elected three times.
In 2010, he was elected to the U.S. House from Kansas' 1st District.
Huelskamp and his wife, Angela, have four adopted children.
Profile
Tim Huelskamp has been one of Kansas' most conservative politicians since his first run for the state Senate in 1996. A strong anti-establishment streak also has led him to clash with leaders in both Topeka and Washington, including those in his own party.
His sprawling 1st Congressional District of western and central Kansas is among the safest for the GOP in the nation. He is running unopposed for re-election in 2012.
He's long been a favorite of abortion opponents and other social conservatives, and he has stayed involved in some state and local issues even after his election to Congress.
For example, as the Chick-fil-A chain faced controversy in 2012 over its top executive's views on gay marriage, Huelskamp sent a letter to the University of Kansas' chancellor to stop an effort to force out an on-campus restaurant. He injected himself into Republican primaries for state Senate seats by chastising moderate incumbents in an open letter about the chamber's failure to adopt a proposed amendment to the state constitution to protest a federal mandate that most Americans buy health insurance, starting in 2014.
He's a strong opponent of President Barack Obama's administration, and he's often much tougher in his rhetoric than other members of the state's all-Republican delegation.
In his 2010 campaign, Huelskamp promised to push for congressional approval of the "fair tax" plan to replace federal income and estate taxes with a national sales tax. He was a supporter of former Arkansas Gov. Mike Huckabee in the 2008 presidential race.
As a state senator in 2010, Huelskamp won approval of an amendment to the state budget to prevent the Department of Health and Environment from spending any money to draft or enforce rules regulating greenhouse gases. Democratic Gov. Mark Parkinson vetoed it after two major utilities complained that it could lead the federal government to take over environmental regulation in Kansas.
As a legislator, Huelskamp quickly gained a reputation as a stickler for details who reads bills carefully.
Just as quickly, he became an irritant to the Kansas Senate's less conservative leaders.
When Kansas redrew political boundaries in 2002, Huelskamp helped forge a coalition _ against his own Senate GOP leaders _ to create more districts amenable to both Democrats and conservatives. Then, in 2012, as a member of Congress, he clashed with the conservative state House speaker over new lines for congressional districts.
Source: Associated Press