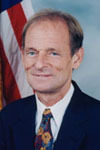 Birthdate: July 23, 1946
Birth Place: Champaign, IL, United States
Residence: Urbana, IL
Religion: Christian
Gender: Male

Candidacy
Education
Tim Johnson was born in Champaign, Ill. and has lived most of his life in Champaign County. He earned a bachelor's and a law degree at University of Illinois.
Johnson founded an Urbana law firm, where he is a senior partner. He also started a small farm in 1996.
Johnson has dabbled in small business, real estate and education. His public service began in 1971, while still in law school, when he served on the Urbana City Council.
In 1976, Johnson won a seat in the Illinois House after surviving a six-way GOP primary and remained at the Statehouse until 2000, when he won election to the U.S. House.
Shortly after his win in the March 2012 Republican primary, Johnson announced he would end his re-election campaign and retire from Congress at the end of his term. Johnson said he was leaving office to spend time with his children, grandchildren and great-grandchildren and insisted he faced no health or other issues.
Johnson has divorced three times. He has nine children.
Profile
Tim Johnson surprised many when, shortly after his March 2012 Republican primary win, he announced plans to end his campaign and retire at the end of his term.
The veteran congressman said he wanted to spend time with family, something he said he'd done too little of in more than four decades in politics. Johnson insisted he faced no health problems or other issues.
"One of my grandsons is 2 years old. I have seen him for a total of about 10 minutes," the 65-year-old Johnson said, pausing to fight back tears during a news conference in April 2012. "I have another who asked me not long ago if I was ever going to come to one of his ballgames. I didn't have an answer."
Johnson has spent his career going his own way.
He voted against the national health care overhaul in 2010 and joined other Illinois representatives in urging the state attorney general to take legal action against the health plan.
"It strikes at the very core of our liberties and is a giant step toward wrecking an already fragile economy," Johnson said.
Johnson has also been a vocal critic of the wars in Afghanistan and Iraq. "We have succeeded only in inflaming the terrorist movement and in laying waste to an independent nation," he said in March 2010.
When Johnson first ran for Congress in 2000, he was a millionaire attorney who had already served more than two decades as a state representative. GOP insiders said they didn't want him to be their nominee for the seat being vacated by retiring Republican Rep. Tom Ewing, and worried that Johnson would lose the sprawling district anchored by the University of Illinois.
Through most of his career Johnson has seldom if ever been mentioned as a potential Democratic target. That changed this year, with some national Democrats calling his seat one to watch.
In 2012, he faced his first primary opposition since 2000.
Johnson signed a declaration in 2000 pledging that he would serve no more than three terms in the House. Before seeking a third term, however, he decided he would not live by the commitment.
Johnson has focused on farm policy, bringing back federal dollars for Illinois universities and pushing for the expansion of the use of bio-fuels. He attended West Point as a young man, and has paid heed to the needs of veterans.
Johnson is known for his phone calls to constituents and his eagerness to help them. Such local campaigning helped him win each of his general elections. It also helped him bring a flurry of small-town mayors to join his campaign advertisements, speaking to his down-to-earth style.
Johnson's voting record received the highest possible marks from the Illinois Chamber of Commerce and Illinois State Rifle Association. Anti-abortion rights groups have also praised him for his consistent voting record. He supports parental notification and a ban on late term abortions, and he opposes government funding of abortions.
Johnson was the only member of Illinois Republican congressional delegation who didn't join a lawsuit in 2011 intended to block a new map of the state's congressional districts draw by Democrats.
Source: Associated Press