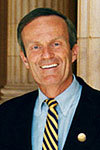 Birthdate: July 5, 1947
Birth Place: New York, NY, United States
Residence: Wildwood, MO
Religion: Christian-Presbyterian
Gender: Male

Candidacy
Education
Todd Akin was born in New York City and lives in Wildwood, Mo. He earned a bachelor's degree in engineering from Worcester Polytechnic Institute.
Akin served as an officer in the Army Corps of Engineers and received an honorable discharge. He also marketed large computer systems for IBM and later served in corporate management at Laclede Steel Company.
He taught international marketing at the undergraduate level and has lectured on early U.S. history and government.
Akin was elected to the Missouri House in 1988 and served there until election to the U.S. House in 2000. He won Missouri's August 2012 Republican primary for U.S. Senate.
He and his wife, Lulli, have six children.
Profile
Todd Akin was little known to many Missourians, much less the nation, when the six-term congressman launched a campaign in 2011 to challenge Democratic U.S. Sen. Claire McCaskill. Akin now has national renown after making remarks in August 2012 that a woman's body has ways of averting pregnancy in cases of "legitimate rape."
Akin has apologized repeatedly, stating that he misspoke when using the term "legitimate rape" and was wrong on the medical science. He also has emphatically rejected calls to quit the Senate race by top Republicans, including the chairman of the Republican National Committee, presidential candidate Mitt Romney and all five living Republicans who have represented Missouri in the U.S. Senate.
The campaign arm of Republican senators and the conservative Crossroads group both have said they will pull millions of dollars of TV ads from Missouri as long as Akin remains in the race. Akin responded by launching an online fundraising drive, seeking $3 and $5 donations while appealing to social conservatives and anti-establishment Republicans.
Akin's inflammatory remarks came just two weeks after he won a hotly contested Republican Senate primary against suburban St. Louis businessman John Brunner and former Missouri Treasurer Sarah Steelman.
A devout Christian, Akin often speaks about how God has a purpose for each person. At his primary election night watch party, his first words were to thank God for hearing the prayers of his supporters and granting him victory.
Akin is an avid student of the U.S. Constitution, and got his start in politics in 1987 when Gov. John Ashcroft appointed him to the Bicentennial Commission of the U.S. Constitution. Almost two decades later, the conservative lawmaker has become a reliable voice against abortion, federal expansion and same-sex marriage.
He wants to repeal the 2010 health care reform law signed by President Barack Obama, and he touts his opposition to the federal stimulus act passed in 2009. In March 2009, Akin described Obama's executive order allowing federally funded research on hundreds of new lines of embryonic stem cells as a "disappointing and divisive course of action."
Akin also highlights his opposition to some high-profile initiatives backed by former Republican President George W. Bush, including the No Child Left Behind Act for schools and the 2008 bank bailout.
Akin's legislative agenda has included unwavering support for measures that would strip courts of the ability to address gay marriage or the "under God" phrase in the Pledge of Allegiance.
Many of Akin's priorities echo his time in the state House. He first won a seat there in 1988, when he actively opposed the expansion of gambling.
When 2nd Congressional District Rep. Jim Talent announced he was running for governor in 2000, Akin won a five-way Republican primary to succeed him by a slim margin of 66 votes out of nearly 58,000 cast. He then won the general election and, during his first term in Congress, was chosen vice president of his freshman class.
Akin is an active member of the Boy Scouts of America and his church. He also is a former board member of Missouri Right to Life and The Mission Gate Prison Ministry.
Source: Associated Press