Tom Cole
House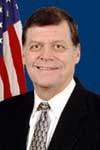 Birthdate: April 28, 1949
Birth Place: Shreveport, LA, United States
Residence: Moore, OK
Religion: Methodist
First Elected: 2002
Gender: Male

Candidacy
Party: Republican
State: Oklahoma
Office: House
District: District 4

Education
Undergraduate: Grinnell College
Degree: BA

Graduate: Yale University
Degree: MA

Graduate: University of Oklahoma
Degree: PhD

Tom Cole was born in Shreveport, La., and raised in Moore, Okla., where he still resides. His father was in the Air Force and his late mother, Helen, was a state lawmaker. Cole earned a bachelor's from Grinnell College, a master's from Yale University and a doctorate from the University of Oklahoma.
Cole was a college instructor in history and politics. He is a former state Republican chairman who has headed a political consulting firm since 1989.
He was elected in 1988 to the state Senate seat previously served by his mother. He was appointed secretary of state in 1995.
Cole was elected to Congress in 2002. He was chosen to be chairman of the National Republican Congressional Committee in 2008.
He and his wife, Ellen, have a son.
Profile
Tom Cole has been a leading Republican figure in Oklahoma politics for more than two decades. He would have made a formidable foe in the 2010 race for Oklahoma's open governor's seat, but Cole said he still has work to do in Washington.
He considered a run to replace Democratic Gov. Brad Henry, who was term-limited in 2010, but he told The Associated Press in March 2009 that he thought he could better serve Oklahoma in Congress.
"The big fights that I think will impact Oklahoma negatively are up here," Cole told the AP. He mentioned President Barack Obama's administration's proposals on "taxation, borrowing and spending," as well as challenges overseas.
Cole has opposed federal stimulus projects, the 2010 health care reform bill and a proposed cap-and-trade energy plan.
When the U.S. Supreme Court narrowly upheld the health care reform law as constitutional in 2012, Cole said he disagreed with the court's decision.
"Although the Supreme Court ruled very narrowly that Obamacare does not violate the Constitution, it remains a deeply flawed, unworkable and damaging law," Cole said in a statement in June 2012.
He then praised his House colleagues for voting to repeal the act two weeks later, even though the bill was dead on arrival in the Democrat-controlled Senate.
He drew criticism from his 2010 primary opponent for his vote in 2008 in support of the nation's financial industry.
"Look, it was a tough vote," Cole told the AP in July 2010. "I think we were headed for a depression, so did a Republican president and a Democratic Congress. I don't think banks collapsing is what the American people wanted. The reality was, that it was about to happen."
Cole is an enrolled member of the Chickasha Nation and serves as Republican co-chairman of the Native American Caucus. He served two years as chairman of the National Republican Congressional Committee, the fundraising arm for the GOP in the House, before stepping down after the 2008 election cycle. He was executive director of that committee and also chief of staff of the Republican National Committee.
Cole urged Republicans at the party's 2008 national convention to rally behind John McCain's candidacy for president and to help GOP candidates for Congress, many of whom faced uphill battles against Democrats as the nation's economy soured.
During his tenure in the state Senate, Cole advocated lower taxes and smaller government, positions he has emphasized in the U.S. House.
Source: Associated Press