Tom Rooney
House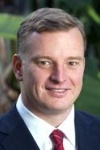 Birthdate: Nov. 21, 1970
Birth Place: Philadelphia, PA, United States
Residence: Tequesta, FL
Religion: Catholic
First Elected: 2008
Gender: Male

Candidacy
Party: Republican
State: Florida
Office: House
District: District 17

Education
Undergraduate: Washington and Jefferson College
Degree: BA

Graduate: University of Florida
Degree: MA

Graduate: University of Miami
Degree: JD

Tom Rooney was born in Philadelphia and lives in Tequesta, Fla. He earned a bachelor's degree from Washington and Jefferson College, a master's from the University of Florida and a law degree from the University of Miami. His uncle owns the Pittsburgh Steelers and is also the U.S. ambassador to Ireland.
Rooney practiced law in Stuart, Fla., before being elected to Congress. He was a commissioned officer in the U.S. Army Judge Advocate General Corps at Fort Hood. He later became an instructor at the U.S. Military Academy. After leaving the Army, Rooney served as an assistant attorney general under then-state Attorney General Charlie Crist, who later served as governor of Florida.
Rooney was elected to the U.S. House in 2008.
He and his wife, Tara, have three children.
Profile
Tom Rooney bucked the GOP House leadership in 2012, voting to cancel $450 million in funding for an alternative engine for the F-35 fighter jet. He called for a resolution stating President Barack Obama violated his power by authorizing U.S. forces in Libya. And he was among those in Florida's delegation sponsoring legislation banning the importation of various constrictor snakes that have developed a burgeoning population in the Everglades.
In 2010, Rooney sponsored legislation that would require the Department of Homeland Security to remove criminal aliens from the U.S. upon release from incarceration.
He helped pass a bill that improves existing criminal statutes necessary for the Secret Service to resolve security issues and implement prevention strategies before tragedy strikes. He also introduced a bill to create tax-exempt catastrophe savings accounts allowing Americans to save pre-tax dollars to pay expenses after major disasters.
In the wake of the April 2010 Gulf oil spill, Rooney co-sponsored legislation to hold oil companies accountable for offshore spills, while improving federal oversight to prevent future spills.
He also voted against the National Defense Act Authorization and blocked a bill that would give Congress automatic pay raises. Rooney supported Florida's lawsuit attempting to block the March 2010 health care reform law backed by Obama.
He survived a difficult primary election in 2008 and was considered an underdog against incumbent Democratic Rep. Tim Mahoney until news broke that Mahoney had paid a former staffer to stay quiet about his affair. Shortly after those stories, a second mistress was revealed and Mahoney indicated there may have been others. The election ended up a landslide in Rooney's favor. Rooney returned the seat to Republican hands just two years after Mahoney pulled a similar upset. Mahoney was also considered an underdog until news stories revealed then-Rep. Mark Foley had sent lurid messages to boy pages. Foley resigned about a month before the 2006 election.
Rooney sits on the House Armed Services, Judiciary and Agriculture committees.
One of Rooney's first official acts in Congress was to file a bill in February 2009 that would prohibit spending money to transport detainees at Guantanamo Bay, Cuba, to Florida.
He also co-sponsored a bill that attempts to reduce the number of military veteran suicides.
Source: Associated Press