Trent Franks
House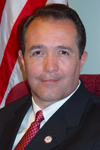 Birthdate: June 19, 1957
Birth Place: Uravan, CO, United States
Residence: Glendale, AZ
Religion: Christian
First Elected: 2002
Gender: Male

Candidacy
Party: Republican
State: Arizona
Office: House
District: District 8

Education
Undergraduate: Ottawa University
Degree: Attended

Trent Franks was born in Uravan, Colo., and lives in Glendale, Ariz. He has studied at the Center for Constitutional Studies in Utah and at Ottawa University. Franks has worked as a small business owner, consultant and oil field and drilling engineer.
Franks was a member of the Arizona House of Representatives from 1985 to 1987. He was appointed by former Arizona Gov. Evan Mecham to head the Arizona Governor's Office for Children in 1987. Franks served more than four years as the executive director of the Arizona Family Research Institute, a nonprofit organization that deals with public policy to protect children and families in Arizona.
He was elected to the U.S. House in 2002.
Franks and his wife, Josephine, have two children.
Profile
Trent Franks won the Republican nomination by a big margin in August 2012 as he seeks his sixth term in the U.S. House, running in Arizona's new 8th Congressional District.
Franks' old district, the 2nd, covered the entire northwestern corner of the state but after redistricting following the 2010 census now only covers western parts of metropolitan Phoenix. The district remains solidly Republican.
In the November 2012 general election, Franks faces Democrat Gene Scharer.
Franks said his staunchly conservative record makes it tough for other Republicans to challenge him from the right. "In a genuinely conservative district like mine, it's hard to out-Republican me," Franks said in August 2012.
Franks has focused on immigration, much of it occurring in his home state of Arizona. He's also pushed for national security issues, which tie in with his concern for securing the border.
Franks supports Arizona's crackdown on illegal immigration and was among 76 members of Congress who filed a brief supporting the state before most of the law was blocked by a federal judge in July 2010.
After a federal probe was launched into Maricopa County Sheriff Joe Arpaio's immigration sweeps, Franks was one of 10 Republican congressmen in March 2009 who signed a letter asking the Justice Department to ensure police agencies would be treated fairly despite enforcing immigration policies. Franks said he believes local law enforcement officials' apprehending illegal immigrants has helped make the country safer, but that law enforcement is not a replacement for secure borders.
While some Republican legislators have remained fiscally conservative in the wake of the February 2009 stimulus plan backed by President Barack Obama, Franks has not. He requested nearly $3 billion in stimulus money for defense contractors as of April 2009.
Franks became one of the swing votes during his first term for an approximately $400 billion Medicare bill that passed the House by a close vote of 220-215. Amid intense lobbying, Franks went from voting against it to voting for it, though he believed the Medicare overhaul created a new entitlement that the country could not afford.
He supports reducing the tax rate and the size of government, and he has pledged to vote against all bills that represent a net increase in tax rates on businesses and constituents. Franks supports eliminating the marriage penalty tax and increasing tax exemptions for children.
He is a staunch anti-abortion advocate and opposes scientific research using embryonic stem cells.
Franks also believes parents should have the right to approve how their children receive sexual education. He publicly decried a Ninth Circuit Court of Appeals ruling in November 2005 that parents had no right to dictate what kind of information public schools could disseminate.
He supports repealing the tax on social security income. He also favors legislation that would expand opportunities in allowing individuals to have a Medical Savings Account, a tax-free personal account used to pay medical bills not covered by insurance.
Franks was born with a severe cleft lip and palate, and doctors warned his parents their son might not live long. But, said Franks in a July 2005 interview with The Arizona Republic, they sent him to a children's hospital in Denver where he eventually underwent nine operations, the first at just 2 weeks old.
Source: Associated Press