Harold 'Trey' Watson Gowdy, III
Harold 'Trey' Watson Gowdy, III
House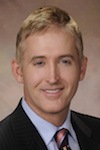 Birthdate: Aug. 22, 1964
Birth Place: Greenville, SC, United States
Residence: Spartanburg, SC
Religion: Southern Baptist
First Elected: 2010
Gender: Male

Candidacy
Party: Republican
State: South Carolina
Office: House
District: District 4

Education
Undergraduate: Baylor University
Degree: BA

Undergraduate: University of South Carolina
Degree: JD

Trey Gowdy was born in Greenville, S.C., and now lives in Spartanburg. He earned a bachelor's degree from Baylor University and a law degree from the University of South Carolina.
Gowdy was a clerk for state and federal judges before becoming a federal prosecutor in 1994. He was elected prosecutor for the 7th Judicial Circuit in 2000 and won re-election in 2004 and 2008.
Gowdy was elected to the U.S. House in 2010.
Gowdy and his wife, Terri, have two children.
Profile
Trey Gowdy was elected to represent South Carolina's 4th Congressional District in 2010, after ousting Rep. Bob Inglis in the Republican primary and gaining the support of GOP voters who regarded Inglis as too moderate.
In the November 2012 election, Gowdy will face Democrat Deb Morrow and Jeff Sumerel, a member of the Green Party. Gowdy was unopposed in the Republican primary.
A tea party advocate, Gowdy said after his 2010 election that he bristles at the notion that tea party-influenced newcomers are sheep-like ideologues willing to risk default.
"We're not a bunch of knuckle-dragging, mouth-breathing Neanderthals," Gowdy said in July 2011. "We're interested in answering what we perceive to be the mandate, which is to stop the spending and change the way Washington handles money."
Gowdy has taken on a highly visible role in South Carolina's delegation, speaking out on issues including illegal immigration. In June 2011, Gowdy said farmers in his area wanted to do the right thing and hire legal workers but they were frustrated with the stifling bureaucracy that comes with a complex visa program.
Gowdy, who sits on the House Oversight and Government Reform Committee, played a key role in the House's response to the botched U.S. gun-tracking operation in Mexico, Operation Fast and Furious. After the GOP-controlled House made it clear it was unhappy with how long the Justice Department was taking to hand over documents regarding the operation, Gowdy orchestrated a symbolic $1 million cut in money for salaries at the department. He said the House had been too patient. He joined the Republican majority in the House in the 2012 vote to hold Attorney General Eric Holder in contempt.
Gowdy chairs the subcommittee that oversees the District of Columbia. During a 2012 congressional hearing on the Occupy D.C. protest, he said there could be troubling implications for other parks if the U.S. Park Police didn't enforce a camping ban at a small park near the White House.
"I'm going to be making sure that anyone who wants to camp throughout the United States, as long as they say they're protesting, can do whatever they want in federal parks," he said.
Gowdy is also a frequent union critic, participating in a field hearing held in South Carolina over the National Labor Relations Board's dispute with Boeing.
He says the economy, taxes, job creation and spending are among his top issues. He wants less government regulation and says reckless spending is undermining the fundamentals of democracy.
Source: Associated Press