Vincent Gray
Mayor - DC Only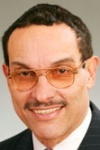 Birthdate: Nov. 8, 1942
Birth Place: Washington, DC, United States
Residence: Washington, DC
Religion: Roman Catholic
First Elected: 2010
Gender: Male

Education
Undergraduate: George Washington University
Degree: BA

Vincent Gray was born and raised in Washington, D.C., where he now resides. He earned a bachelor's degree from George Washington University, where he became the first African-American admitted into the school's fraternity system.
Gray began his career with the Association of Retarded Citizens. In 1991, he began working for the District of Columbia as director of the department of human services. In 1994, he was named the first executive director of Covenant House Washington, a faith-based organization dedicated to serving homeless and at-risk youth.
Gray served as Ward 7 councilman, one of the 13 members of the D.C. Council. He was elected council chairman in 2006. He defeated incumbent Mayor Adrian Fenty in the 2010 Democratic primary for mayor and went on to an easy victory in the general election.
Gray's wife died of cancer in 1998. He has two grown children.
Profile
Vincent Gray won the District of Columbia's 2010 Democratic primary for mayor, defeating incumbent Adrian Fenty. Three-quarters of the city's registered voters are Democrats, and he scored an easy victory in the general election over three minor-party candidates and write-in selections, including Fenty.
Gray's victory revealed a city divided along racial and economic lines. Residents of the district's poor, majority-black wards favored him overwhelmingly, while Fenty prevailed in more affluent parts of the city.
Gray pledged to unify the city after the divisive primary, but his tenure as mayor was soon derailed by scandal, including allegations that his campaign paid a minor candidate to disparage Fenty and promised him a job in city government. Gray was also criticized for hiring the relatives of top aides and paying inflated salaries to his senior staff.
Federal prosecutors launched an investigation of the former candidate's allegations of a quid pro quo arrangement. The probe later broadened into an examination of how Gray's campaign and other district campaigns were funded.
The investigation has cast a shadow over Gray's tenure that the detail-oriented mayor has yet to overcome. But he has made progress in stabilizing the district's finances and promoting economic development. And he earned some good publicity when he was arrested outside the U.S. Capitol while protesting a federal budget deal that included restrictions on how the city could spend its money.
Source: Associated Press