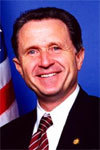 Birthdate: May 20, 1945
Birth Place: Yuba City, CA, United States
Residence: Chico, CA
Religion: Mormon
Gender: Male

Candidacy
Education
Wally Herger was born in Yuba City, Calif., and now lives in Chico. He earned an associate degree from American River College and studied business administration at Sacramento State University.
Herger comes from a prominent ranching family, and he owns a cattle ranch and a propane gas company. He was elected to the California Assembly in 1980 and served until his election to the U.S. House in 1986.
He announced in January 2012 that he would not seek re-election.
Herger and his wife, Pamela, have nine children, one of whom is deceased.
Profile
Wally Herger is a fierce Republican with strong conservative credentials. He has used his seat on the powerful Ways and Means Committee to promote fiscal restraint and speak out against the 2010 health care reform bill.
Herger introduced legislation in 2010, backed by the Republican leadership, to repeal the bill, which he describes as a government takeover of health care that will cost trillions of dollars to implement.
"It is essential that we repeal this massive government intrusion into Americans' health care which promises to skyrocket costs even further," Herger said in a statement when he introduced the repeal measure in May 2010.
The 13-term congressman announced in January 2012 that he would not seek re-election. He said in a press release that the privilege of serving in Congress also led to sacrifices, particularly time spent away from family.
"I want to focus on my family and enjoy spending time with my grandchildren before they grow up," Herger said.
He voted with his party against the 2009 approximately $800 billion economic stimulus bill. Herger argued it would do little to create jobs or stimulate the economy. He questioned funding in the bill for the National Endowment for the Arts, NASA climate research and plug-in and fuel efficient vehicles.
Herger is a vocal critic of the Value Added Tax and continues to serve as the chair of an anti-VAT caucus.
He supports allowing workers to invest part of their Social Security in private accounts. He has used his seat on the Ways and Means Committee to push for greater accountability for recipients of social welfare programs, encouraging more work and shorter periods of eligibility as part of the 2006 reauthorization of a 1996 law he helped shape.
Herger previously served on the House Agriculture Committee, where he was able to benefit the lumber and agricultural counties in his rural Northern California district. An unprecedented number of wildfires in 2008 hit the district hard, cementing his long-time advocacy for thinning forests to help combat catastrophic wildfires.
Herger supports offshore oil drilling, an issue that came under scrutiny after BP's Deepwater Horizon oil rig exploded in April 2010 in the Gulf of Mexico. He praised President George W. Bush in 2008 for lifting an executive ban on offshore drilling.
Herger was a low-key lawmaker during his time in the state Legislature. He rarely engaged in floor debate, but honed his political beliefs. He was among the authors of Republican Gov. George Deukmejian's proposal to force welfare mothers to work for their benefits.
Source: Associated Press