Walter B. Jones, Jr.
House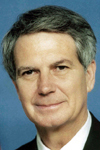 Birthdate: Feb. 10, 1943
Birth Place: Farmville, NC, United States
Residence: Farmville, NC
Religion: Catholic
First Elected: 1994
Gender: Male

Candidacy
Party: Republican
State: North Carolina
Office: House
District: District 3

Education
Undergraduate: Atlantic Christian College
Degree: BA

Walter Jones was born in Farmville, N.C., where he still resides. He earned a bachelor's in history from Atlantic Christian College in 1967. He attended North Carolina State University from 1962 to 1965.
Jones was president of Judson Co. Inc., a lighting company, and president of Benefit Reserves Inc.
He served in the North Carolina House from 1981 to 1991 and was elected to the U.S. House in 1994, following in the footsteps of his father, a Democrat who represented North Carolina for 26 years.
Jones and his wife, Joe Anne, have one daughter.
Profile
Walter Jones is a former Democrat and a bit of a maverick _ especially when it comes to the military, the North Carolina coastline and religious advocacy.
Jones asked successfully in early 2010 for a Defense Department probe into substandard mental health treatment for Marines returning from Iraq and Afghanistan to Camp Lejeune, which is part of his eastern North Carolina district.
In 2012, when a government watchdog began investigating Afghanistan's practice of taxing U.S. companies involved in America's multibillion-dollar effort to rebuild the war-torn nation, Jones and Democratic Rep. Peter Welch released a statement in support of the watchdog's actions.
"This is a step in the right direction," the legislators said. "We're hopeful this audit will and bring to an end the absurd practice by the Afghan government of taxing America's effort to rebuild their country.
"While such behavior may make sense in (Afghan President) Hamid Karzai's world, it makes no sense to the American taxpayer," they said.
Jones criticized the 2009 economic stimulus package backed by President Barack Obama as "bloated," but he praised the president for his efforts to block $165 million in retention bonuses to employees of American International Group.
Jones may be best known for instigating a symbolic slap against the French in 2003 when France opposed U.S. military action in Iraq. He was among the House members who led a campaign that resulted in the chamber's cafeteria offering "freedom fries" and "freedom toast."
Two years later Jones became one of the first elected Republicans to call for a timetable for the withdrawal of American troops from Iraq. He said he introduced legislation that would have required the administration of President George W. Bush to begin withdrawing troops in October 2006 because the premise for invading Iraq _ the threat of weapons of mass destruction _ had proved false.
"If I had known then what I know now, I wouldn't have supported the resolution," Jones said.
Jones, whose district also includes the Cherry Point Marine Corps base, has written condolence letters to the families of more than 1,300 service people killed in Iraq. Posters lining the wall outside his congressional office show the faces of those killed.
Jones also broke rank with the Bush administration on a deal that would have allowed a government-run company in the United Arab Emirates to take control of six U.S. ports. He co-sponsored legislation that sought to stop the deal, but the company dropped its bid due to vocal public opposition.
Jones urged the Navy to find an alternative site in eastern North Carolina for a practice landing field after the military's preferred location, partially in Jones' district, had been criticized due to environmental and safety concerns.
Jones is an evangelical Christian and has proposed legislation that would allow pastors to endorse political candidates from the pulpit without fear of losing their tax-exempt status. He also urged Bush to issue an executive order protecting the right of military chaplains to pray according to their faith.
Source: Associated Press