Wayne Edward 'Ed' Whitfield
Wayne Edward 'Ed' Whitfield
House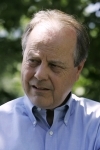 Birthdate: May 25, 1943
Birth Place: Hopkinsville, KY, United States
Residence: Hopkinsville, KY
Religion: Methodist
First Elected: 1994
Gender: Male

Candidacy
Party: Republican
State: Kentucky
Office: House
District: District 1

Education
Undergraduate: University of Kentucky
Degree: BS

Graduate: University of Kentucky
Degree: JD

Ed Whitfield was born in Hopkinsville, Ky., where he still resides. He attended the University of Kentucky where he earned a bachelor's in 1965 and a law degree in 1969.
Whitfield practiced law from 1970 to 1979. He also operated an oil distributorship in Madisonville.
He won election as a Democrat to the Kentucky House in 1974 but did not seek re-election.
Whitfield joined Seaboard System Railroad _ later CSX Corp. _ in 1979, eventually serving as vice president for federal railroad affairs.
President George H.W. Bush appointed Whitfield counsel to the chairman of the Interstate Commerce Commission in 1992.
Whitfield was elected as a Republican to the U.S. House in 1994.
Whitfield's wife, Connie, held positions in the Reagan administration and the first Bush administration. He has a daughter from a previous marriage.
Profile
Ed Whitfield captured his U.S. House seat in 1994 from one-term incumbent Democrat Tom Barlow as part of the so-called Republican Revolution that changed the balance of power in Congress. Whitfield became the first Republican to hold the seat since the Civil War.
He has since been a defender of small business, agriculture and energy interests in his rural, mostly western Kentucky district. He has been involved in a number of equine issues _ a topic dear to Kentucky constituents.
Whitfield faces Democrat Charles Hatchett in the 2012 general election.
Whitfield was the ranking Republican in 2008 on a House subcommittee on commerce, trade and consumer protection, taking a proactive role in Congress in dealing with performance-enhancing drugs in horse racing. Whitfield pushed for congressional action, saying the Interstate Horseracing Act of 1978 gave lawmakers the needed leverage.
Whitfield has pushed for steroids in horse racing to be banned, not regulated.
He previously led congressional hearings into allegations of mismanagement at the Jockeys' Guild, and he was a chief sponsor of legislation that would provide injury insurance for jockeys and others who work in horse racing.
Whitfield voted against the 2008 $700 billion government bailout of the financial industry, and the 2009 approximately $800 billion economic stimulus bill, saying the legislation added too much to the national debt.
Whitfield was sympathetic in July 2010 to concerns voiced by the chairman of the Florida Restaurant and Lodging Association, who told a congressional hearing that the media needed to be held accountable for what he alleged was inaccurate reporting on the Gulf oil spill. Whitfield agreed, saying the media focuses on sensationalism.
The Associated Press reported in June 2010 that Whitfield, along with dozens of his colleagues on the Energy and Commerce Committee, received campaign funds from political action committees run by oil and gas companies. According to the Center for Responsive Politics, Whitfield has received $20,500 from the PACs since the beginning of 2009.
In 2011, he sponsored a draft bill that would have made Kentucky a "sanctuary state," out of reach of the Environmental Protection Agency. The move was intended to send a message to President Barack Obama's administration that the EPA needs to stop penalizing the coal industry.
In 2012, Whitfield praised a deal announced by the U.S. Department of Energy to extend operations at the Paducah Gaseous Diffusion Plant, a uranium enrichment plant for which he has long advocated an extension.
Whitfield was once a Democrat, but he said the Democratic Party was increasingly at odds with his natural conservatism, and he officially switched parties in January 1994.
Opponents have tried to portray Whitfield as a carpetbagger because he spent about a decade working outside Kentucky as a railroad official before coming to Congress. His opponents also have tried to paint him as too far to the right to represent the Democratic leaning district.
Whitfield votes with Republicans most of the time, but he will stray from the party line in order to look after local interests. He has tried to improve pay for federal workers despite criticism from GOP leaders.
Source: Associated Press